October 8, 2019
Developer to Create Mixed-Use Village Near UMSL South MetroLink Station
Return to Blog
Transit-Oriented Development (TOD) refers to the investment that takes place at and around transit infrastructure. TOD is often a catalyst for economic growth – improving access to jobs, housing and amenities, and helping promote active lifestyles and a reduced dependence on automobiles.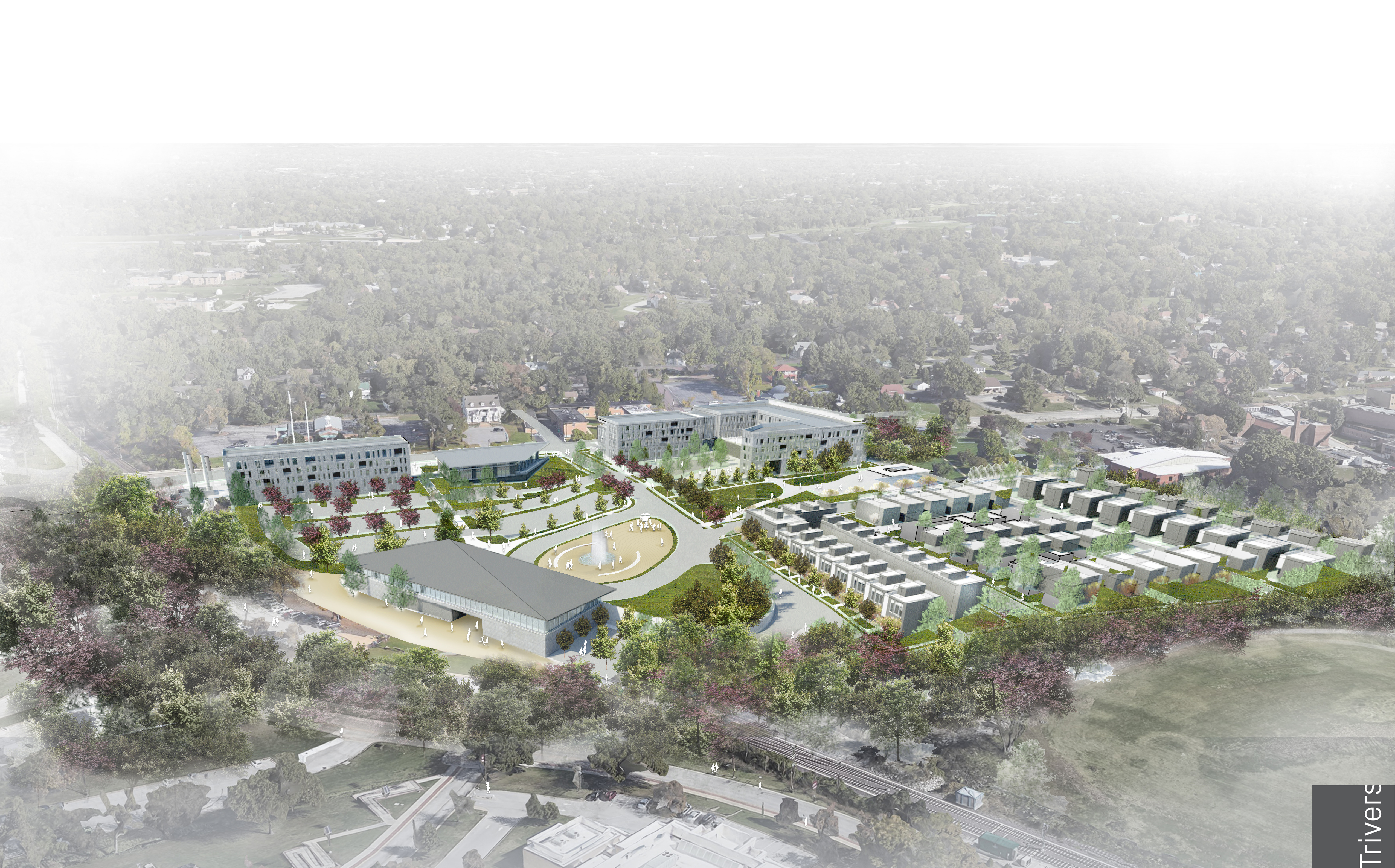 When a request for proposals was issued earlier this year for the 10-acre Immaculate Heart Convent in Normandy, developer Jeff Tegethoff saw the perfect development opportunity.
"It was an opportunity to create a village," he said. "We were drawn to the sight because of the potential connection to the UMSL South MetroLink Station."
Indianapolis-based Pearl Companies, where Tegethoff is a principal, is in negotiations with the city of Normandy to acquire its city hall and police department building. That land, along with the former convent site, will make way for a $60 million, mixed-use development along Natural Bridge Road.
"For this project, we wanted to deliver a full urban neighborhood that offers an integrated model of living," Tegethoff said. "We build developments that encourage people to get out and be a part of the community by offering commercial options such as restaurants and grocery stores."
The project would include 237 market-rate apartments, 20 for-sale townhomes and 21 for-sale single-family homes in addition to retail and event space. Tegethoff said Pearl is in discussion with the surrounding community and nearby employment centers to brainstorm other amenities to include.
"We're asking for feedback. What do they want? Would a microbrew work? What about an entrepreneurial center that we can partner with the University of Missouri – St. Louis nearby?" he said.
---
"This is probably the best square footage of transit-oriented development we can achieve." – Normandy Mayor Patrick Green
---
The development would be one of the largest private investments in North St. Louis County, and the first major transit-oriented development commuters who fly in from St. Louis-Lambert International Airport would see while traveling on MetroLink.
"As a business traveler, you may not have time to go all the way downtown," said Normandy Mayor Patrick Green. "In the City of Normandy, we want to highlight opportunities. Choice brings options, options open doors and with this new development, we're able to create a new impression."
"Developers and investors are increasingly recognizing the benefits and advantages of the Metro Transit system," said Taulby Roach, President and Chief Executive Officer of Bi-State Development. "We are excited to work with the communities we serve to continue to attract new investment, support these types of important development projects, and advance economic growth throughout the St. Louis region."
Pearl – which also has a development in the works near the Forest Park-DeBaliviere MetroLink Station – expects to break ground sometime in the summer of 2020, with construction lasting about two years.
"This is probably the best square footage of transit-oriented development we can achieve," Green said. "It's huge."
Blueprints:
Project: Mixed-Use Development, UMSL South MetroLink Station
Developer: Pearl Companies
Architect: Trivers
$60 million development

237 market-rate apartments
20 for-sale townhomes
21 for-sale single-family homes
Grocery store
Retail/office space
Event space
Timeline: Work is expected to begin in the summer of 2020 and is expected to be completed in 2022.
Return to Blog
Categories:
Economic Development