June 27, 2017
Development Proposals Sought for North Hanley Transit Center
Return to Blog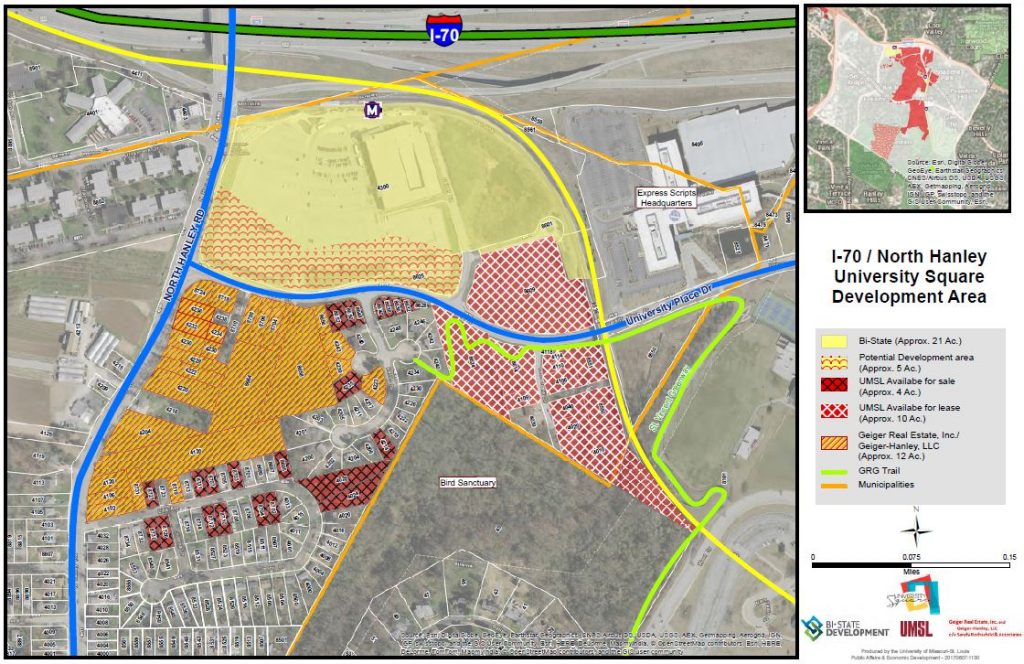 The area around the North Hanley Transit Center is a perfect example of untapped potential.
About 30 acres of land next to the North Hanley Transit Center, including a portion of the transit center area itself, is primed for revitalization. Bi-State Development has partnered with the University of Missouri – St. Louis (UMSL) and Geiger Real Estate to create a joint Request For Proposals (RFP) to explore how this area can host Transit-Oriented Development.
---
Document: Access the Request for Proposals (.pdf)
---
The University Square development project offers a wide range of opportunities for high-density mixed-use development, which could for example include corporate office space, a hotel and conference center, retail and restaurant space, and housing for young professionals and students. The site is located near Express Scripts and UMSL, just south of Interstate 70 and east of North Hanley, along University Place Drive.
The start of the RFP process began earlier this year when the partners hosted a Urban Land Institute Technical Assistance Panel (TAP). The TAP consisted of a group of area professionals across various disciplines who gathered input from community stakeholders to develop a vision for the project area.
"Through various community engagement activities, University Square and its partners received invaluable input from neighborhood residents, business owners and local officials, which ultimately helped University Square and its partners shape the RFP to address the needs of the surrounding communities," said Enrique Flores, Real Estate Development Director of University Square Community Development Corporation.
One of the benefits of the North Hanley Transit Center and surrounding area in this unincorporated section of St. Louis County is the amount of activity it experiences on a daily basis. Within a three-mile radius of the transit center is a population including 2,900 transit commuters; 11,000 students and 2,500 faculty and staff at the University of Missouri – St. Louis; and a growing workforce of more than 62,000 jobs.
"Our partners are excited about a vision of smart, connected, transit-oriented development around the North Hanley MetroLink Station," said John Langa, Vice President of Economic Development for Bi-State Development.
The deadline to submit development proposals is August 15.
Return to Blog