May 11, 2022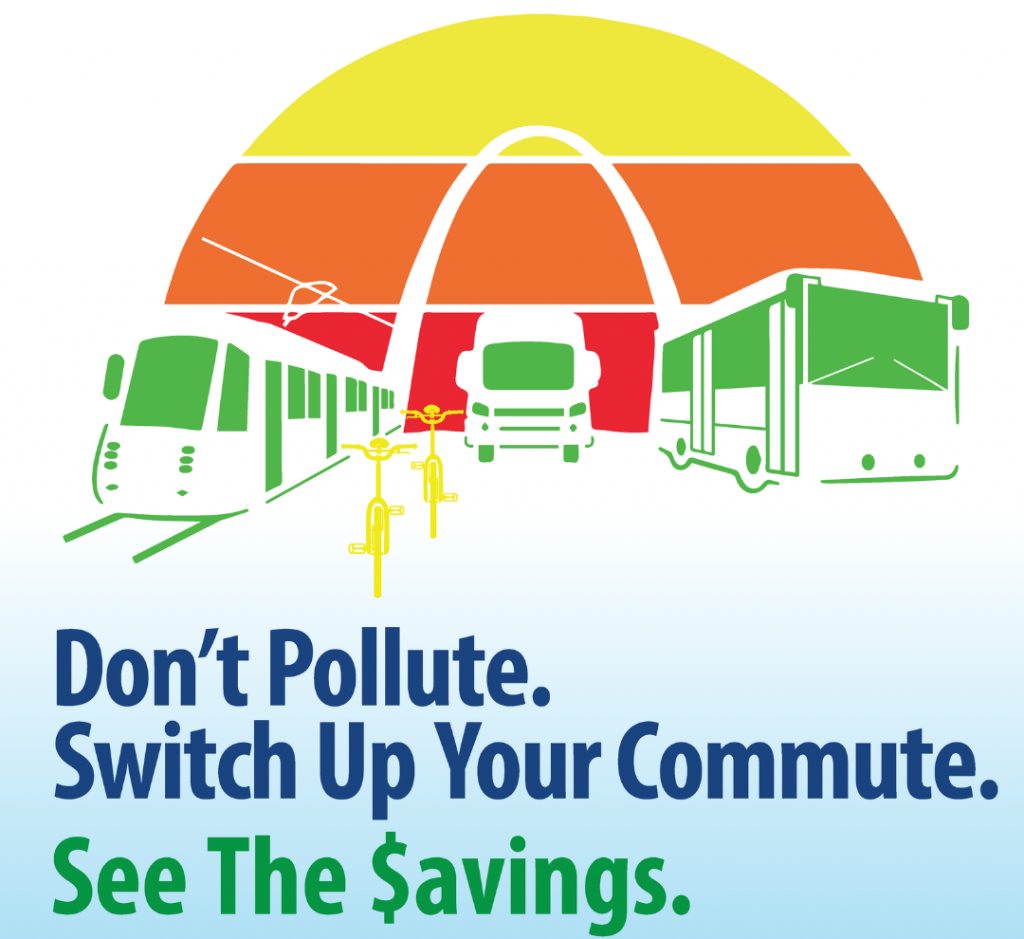 Transportation is one of the biggest contributors to air pollution. In conjunction with the start of the St. Louis Regional Clean Air Partnership's daily air quality forecasting season, we are partnering with local organizations to launch "Don't Pollute. Switch Up Your Commute." — a campaign aimed at providing resources and incentives for ditching your single-occupancy vehicle.
This summer-long effort will work to inform the community about how the way you choose to travel impacts the quality of the air we breathe, as well as motivate you to modify commuting behaviors as often as you are able.
"The St. Louis region is no stranger to poor air quality conditions," said Susannah Fuchs, Director of Clean Air for the American Lung Association in Missouri. "There is a lot of work to be done to protect our local communities from the continued risks to public health resulting from high levels of ozone, particularly during the summer months. It's very important that area residents stay informed about the quality of the air we breathe and continue to take voluntary steps to reduce emissions to help improve outcomes."
Visit SwitchUpYourCommute.com to download the color-coded air quality forecast, which provides daily updates via email or text stating if the forecast for the following day is a GREEN (good), YELLOW (moderate), ORANGE (unhealthy for sensitive groups) or RED (unhealthy) air quality day. The first 200 people to download the forecast will receive a free, STL-STYLE campaign t-shirt. The site also provides detailed information about all transportation options available on both sides of the Mississippi River – and links to schedules, pricing, programs, ride matching services, incentives and more.
We want to see how you are showing you care about clean air this summer. Snap a photo of you taking transit, carpooling, vanpooling, walking, biking or telecommuting and share those pictures on Facebook, Twitter and Instagram with #SwitchUpYourCommute.
"The region is in a race for cleaner air and the campaign is two-fold," added Kimberly Cella, Executive Director for Citizens for Modern Transit. "First, partners aim to educate. Then, as the summer heats up and the potential for poor air quality days to be forecasted increases, we want people to take action."
When an ORANGE or RED air quality day is forecasted, those who have registered for the daily air quality forecast will receive a text message asking them if they plan to modify their commute the following day, and if so, how. These respondents – along with those who post a picture of themselves on social media taking transit, carpooling, vanpooling or telecommuting on a poor air quality day with #SwitchUpYourCommute – will be entered to win a variety of prizes through the end of the air quality forecasting season on September 30, 2022.
"In light of rising gas prices, area residents should consider the cost savings with the alternatives. Not only is there savings on day to day gasoline, but also the maintenance costs of vehicles," added Taulby Roach, President and CEO of Bi-State Development, which operates Metro Transit. "It's a win-win with cleaner air and fuller wallets!"
Partners behind "Don't Pollute. Switch Up Your Commute." include Citizens for Modern Transit, the Clean Air Partnership, Commute with Enterprise, Madison County Transit District, Metro Transit, the Missouri Department of Transportation, RideFinders and St. Clair County Transit District.
Hear from representatives of the partnering organizations in this recent Race for Cleaner Air webinar hosted by CMT to learn more about this summer-long campaign, how you can help, available resources, and next steps.
Return to Blog
Categories:
Metro Lifestyle
,
Transit Benefits