May 5, 2017
Today's photo depicts Western Cable Railway Company's Engine No. 4 hauling Falstaff beer in refrigerated railroad cars past the Lemp Brewery facility. The date is between 1917 and 1927, according to the Missouri History Museum.
Nearby Cherokee Street is home to a kickin' Cinco de Mayo street party tomorrow from 11 a.m. to 10 p.m. Click here for all the details.
You can take MetroBus to the Cherokee events via the #11 and #73.
Have a great weekend!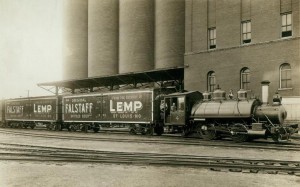 Return to Blog
Categories:
Flashback