August 9, 2023
Flood Update: Metro Transit Receives $27.7 Million in Disaster Relief Funding
Return to Blog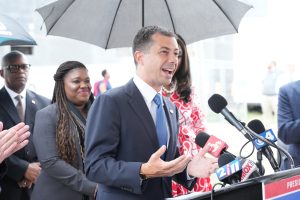 Last week, U.S. Secretary of Transportation Pete Buttigieg came to the St. Louis region to announce that $27.7 million in federal emergency disaster relief funding was coming to Metro Transit. These funds will be used for ongoing recovery following a major flash flooding weather event back in July 2022.
"It feels like every week, we are hearing about a new flood or storm or drought or wildfire or heatwave, or other extreme event, and since we are seeing this with our own eyes we know, as leaders, our duty includes doing something about it," said Buttigieg. "In terms of our transportation work, that means supporting recovery and rebuilding efforts and it means ensuring that our infrastructure is built to withstand the extreme weather that is coming more frequently."
On July 26, 2022, more than nine inches of rain fell in less than 24 hours, flooding homes, roads and vehicles throughout our community. MetroLink was severely impacted. The flood damage severely compromised MetroLink service in the hours and days following the flash flooding. Most MetroLink service was restored within 72 hours due to the incredible efforts of the Metro Transit team, which worked around the clock. However, the frequency of MetroLink trains have still not returned to pre-flood schedules because not all of the damaged equipment needed for the signal and communications system to fully function has been replaced.
The final damage assessment estimated more than $40 million in costs for flood mitigation and to repair or replace necessary equipment and transit vehicles. The federal emergency disaster relief funds combined with insurance will cover those costs. A breakdown of MetroLink's flood recovery is available below.
We appreciate the continued patience and support of MetroLink customers, especially our Blue Line riders, because of the inconvenience caused by this unprecedented natural disaster.
---
Flood Update
Elevators at Forest Park-DeBaliviere MetroLink Station – Repairs Complete, Back in Service
Both station elevators at the Forest Park-DeBaliviere Station sustained major damage from the flooding. The east elevator was repaired and returned to service on May 1, 2023. The west elevator was repaired and returned to service on July 7, 2023.
Damaged Track – Repairs Complete
About five miles of light rail track bed were damaged between the Delmar Loop and Forest Park-DeBaliviere Stations. The majority of track repairs were completed in the three days following the July 26 flooding, with final part replacements made in February and April 2023. Track repairs are complete.
MetroLink Communications – In Process
There was extensive flood damage to two communications rooms near the Delmar Loop and Forest Park-DeBaliviere Stations. The communications rooms manage several important systems on MetroLink, including cameras, train communications, telephone lines, fiber networks, etc. Repairs to the communications rooms were completed in August 2022, but the long-term plan is to replace both rooms and address flood mitigation.
Signal House – In Process
Signal houses are critical components for controlling trains on the MetroLink system. They let train operators know when it is safe to move, and they control the switches that guide trains onto the correct tracks.
The flash floods damaged three signal houses near the Forest Park-DeBaliviere Station, with one completely destroyed. The destroyed signal house was responsible for controlling train movement at the busiest section of the entire MetroLink system at the Forest Park-DeBaliviere Station – where four Red Line and Blue Line tracks merge to just two tracks.
Repairs to the two damaged signal houses were completed in August 2022. The destroyed signal house must be replaced before MetroLink would have the ability to return to pre-flood service.
A platform to keep the new signal house above potential future flooding is currently under construction. It is expected that platform completion and the new signal house will be delivered this October, with full installation and safety testing completed sometime this fall. We will keep you posted on those milestones.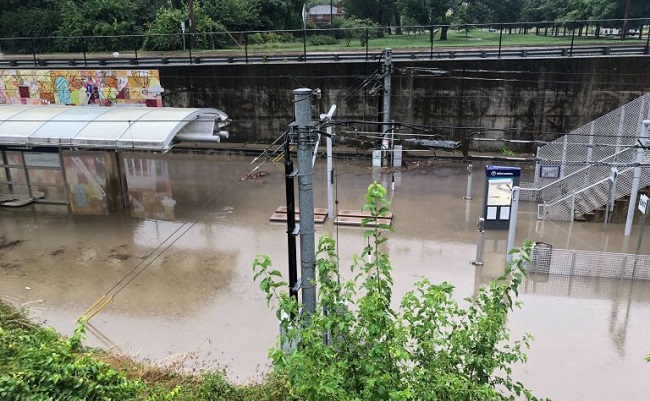 Damaged MetroLink Train – Will Be Replaced
One MetroLink train (two train cars) stranded in flash flood waters at the Delmar Loop MetroLink Station was a total loss. Both cars will be replaced with new Siemens light rail vehicles when the first order of new light rail vehicles is made as part of scheduled fleet replacement. A specific timeline for this order has not been set.
Damaged Metro Call‑A‑Ride Van – Will Be Replaced
One Metro Call‑A‑Ride van stuck in the flood waters while on an area roadway was also a total loss. It will be replaced as well.
When the unexpected occurs, like last year's flash flooding weather event, know that our teams will do everything we do to keep the region moving. We know you count on us every day to get to work, to school, to doctor's appointments, and other important destinations. We are here to get you there, no matter what it takes.
Return to Blog
Categories:
Capital Projects
,
Construction
,
Weather