August 10, 2023
Two Metro Transit Public Safety Team Members Named as Finalists for Outstanding Security Performance Awards
Return to Blog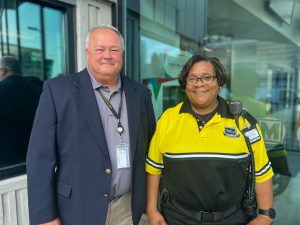 We are thrilled to announce that two members of the Metro Transit Public Safety Team are being recognized for their hard work and dedication by the OSPAs (Outstanding Security Performance Awards). Allied Uniformed Security Supervisor Rochelle Ross and Director of Public Safety Vernon Summers have been selected as finalists for the Outstanding Security Officer and Outstanding Security Director OSPA awards.
Rochelle Ross has been an integral part of the Metro Public Safety team for nearly two decades. You may recognize her as a supervisor at the Civic Center Transit Center, leading a team of 12 officers responsible for the safety of customers on the transit system. Rochelle's professionalism, leadership, and dedication to customer service have made her a standout member of the team. She goes above and beyond her duties serving as an ambassador for Metro Transit, offering information and a friendly smile to every rider she encounters. Her efforts to promote safety and build relationships with members of the community have made her a valuable asset to the team, and a true champion for public safety.
Director Vernon Summers' focus on teamwork, innovation and customer service have been the driving force behind many initiatives put in place to ensure the safety of both Metro customers and team members. The secret to his success is strong leadership and open collaboration. Vern's ability to take all of the elements of Metro Transit's Public Safety team, including contracted security officers, Metro Public Safety staff, and law enforcement officers, and bring them together behind our comprehensive security strategy has ensured that customers have a safer, more secure and more comfortable transit experience every time they ride.
The U.S. OSPAs are part of an independent global awards program that serves to highlight the best companies, people, projects and technologies that have made a significant contribution in safeguarding people, places and property from all areas of potential crime and disorder. They are viewed by many as one of the most prestigious accolades a security organization or professional can be awarded.
Please join us in congratulating Rochelle and Vernon for this special recognition. The winners for these awards will be announced at the 2023 Global Security Exchange (GSX) Conference in September.
Return to Blog