June 8, 2020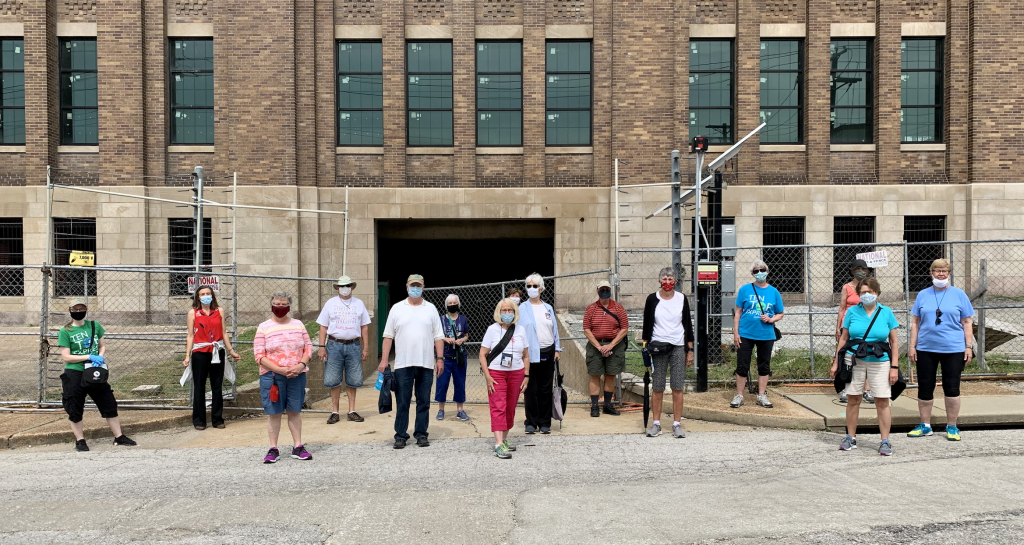 Citizens for Modern Transit (CMT) kicked off the Spring Ten Toe Express® Program on June 4 with Green Street St. Louis for a special tour of the historic St. Louis Armory building. Through the Ten Toe Express program, participants are taught how to use Metro Transit to explore St. Louis and create healthy habits and active lifestyles.
Phil Hulse, managing principal at Green Street St. Louis, joined the group to give a tour of the Armory and share the vision for the Armory District, a unique mixed-use redevelopment currently in construction. The Armory District will incorporate 250,000 square feet of office space with amenities including a restaurant, dynamic structured parking, and a Greenway path connector — all just steps away from MetroLink and the #70 Grand, the region's most popular MetroBus route. The development's first tenants are scheduled to open for business in 2021.
Melanie, one of the Ten Toe Express walkers, is proud to be a part of the program over the years. "It means learning to do without an automobile for the sake of the physical environment and social environment. In vibrant cities, people take transit trips together, they walk in the streets together."
The Ten Toe Express® was founded through a Missouri Foundation for Health grant in 2007 and focuses on helping seniors stay active and healthy, while also teaching them how to easily navigate transit in a fun way.
"Over the past 13 years, the Ten Toe Express® program has introduced more than 8,000 seniors to our region's transit system, making it easier than ever for them to explore many new and unique destinations around St. Louis," said Kimberly Cella, Executive Director of CMT. "While this program is more focused on recreational public transportation use, the past several months have really emphasized how essential transit really is to our local communities. One of the benefits of this program is that it allows older adults to better familiarize with the transit system in a group setting so they feel comfortable using it on their own to gain access to groceries, doctor's appointments or other essential services."
Learn more about the Ten Toe Express® here: https://tentoes.cmt-stl.org/
Return to Blog
Categories:
Metro Lifestyle