July 31, 2023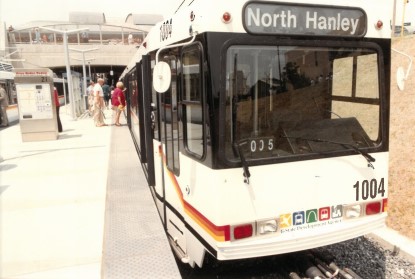 Thirty years ago today, on July 31, 1993, a MetroLink train left the new Union Station MetroLink Station to officially open the region's first light rail system. Since then, MetroLink trains have traveled more than 152 million miles, carrying nearly a half billion passengers to work, school, Cardinals games, shopping, healthcare and other important destinations throughout the bi-state area.
Thank you to all of our riders for choosing Metro Transit over the last 30 years, and to the entire St. Louis region for the privilege of serving our communities and neighborhoods. The best is yet to come, and we are excited to see what the next 30 years has in store!
MetroLink Fun Facts
MetroLink construction began in 1990.
When the system opened on July 31, 1993, it opened with 16 stations: North Hanley, UMSL North, UMSL South, Rock Road, Wellston, Delmar Loop, Forest Park, Central West End, Grand, Union Station, Kiel Center, Stadium, 8th & Pine, Convention Center, Laclede's Landing and 5th & Missouri.
The East Riverfront MetroLink Station and Airport Main MetroLink Station at Lambert Airport would not open until 1994. The Airport East MetroLink Station opened in 1998.
In MetroLink's first year, it recorded an average of 35,000 weekday riders and more than 9 million riders annually – doubling ridership expectations.
Since July 31, 1993, MetroLink has carried more than 425,187,000 passengers.
On June 24, 1994, President Bill Clinton became the first president in office to ride an American light rail system.
In 1993, a gallon of gas cost about $1.16.
When MetroLink first traveled across the Eads Bridge, there were no cars traveling above it. The road deck to the Eads Bridge closed in 1991 and would not reopen until July 4, 2023, after its reconstruction.
Return to Blog
Categories:
Flashback
,
Metro Lifestyle