July 13, 2023
Meet Brittnie – One of the Newest Members to the MetroBus Team
Return to Blog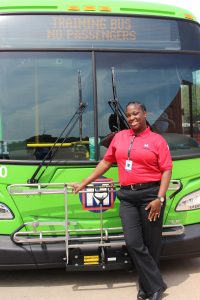 We are excited to welcome Brittnie to the MetroBus team. She became a certified MetroBus Operator in May and she's already fitting in and making an impact. During her weeks of training, she was surprised at how quickly she bonded with her fellow trainees and MetroBus trainers. They laughed, joked, and even took selfies together to celebrate their journey toward becoming full-fledged operators.
For Brittnie, her path to becoming an operator began when she stumbled upon a job posting online. After submitting her application, she received a call inviting her to join our team. Soon after, she found her seat in the Operator Training class.
"Training is awesome, and the whole experience was just wonderful," said Brittnie. Metro not only supported her in obtaining a commercial driver's license but also equipped her with the necessary knowledge and skills to confidently operate a bus. Prior to joining Metro, Brittnie worked for the USPS. Now, she's thrilled to contribute to her community in a new way.
"It's about meeting new people," Brittnie added. "Some don't have other transportation, so they really count on us, for real, to get them where they need to go."
Her next stop will be the Illinois MetroBus Facility, where she'll be ensuring smooth journeys on several St. Clair County routes. So, if you meet Brittnie, be sure to welcome her to the team!
If you're interested in starting a new career serving your community, check out all of our open positions at WorkAtMetroSTL.com or stop by our next Metro Transit hiring event on Saturday, July 15 from 10 AM to 2 PM at the Illinois Bus Facility. For a limited time, you can qualify for a $5,000 signing bonus if hired as a mechanic, electrician or Metro Call‑A‑Ride, MetroBus or MetroLink operator.
Return to Blog