July 12, 2018
Jackie Joyner-Kersee Foundation Partners with Metro to Help Young People Reach New Opportunities
Return to Blog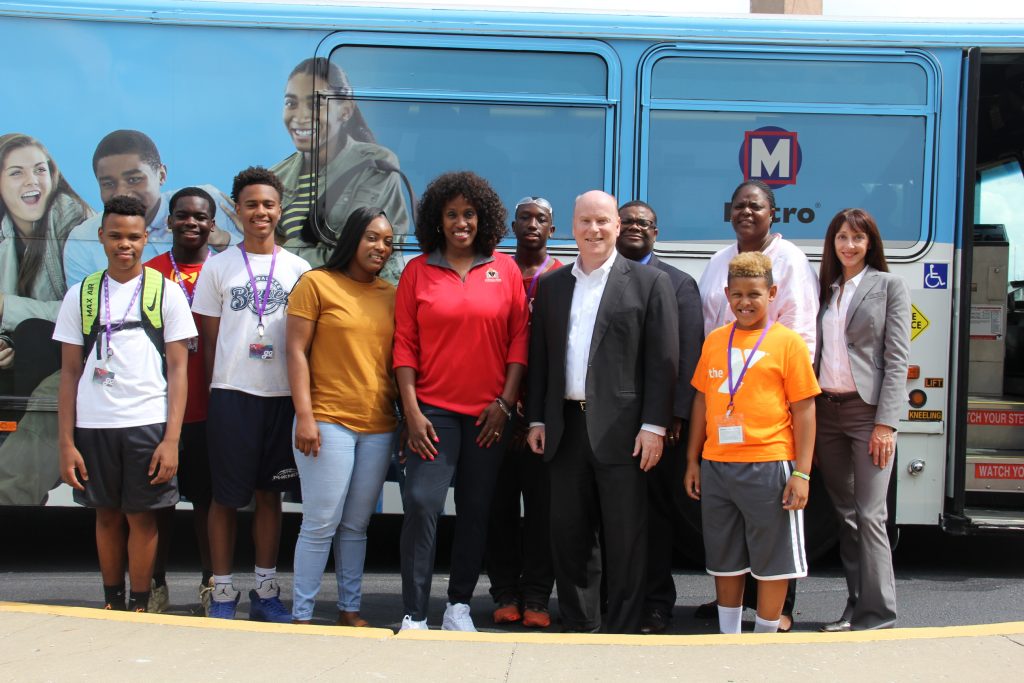 The Jackie Joyner-Kersee Foundation has partnered with Metro Transit to distribute 50 Gateway Go Cards to those participating in afterschool programs, summer camps, athletic programs and other activities at the Jackie Joyner-Kersee Center in East St. Louis.
The Gateway Go Cards provided to the Jackie Joyner-Kersee Foundation have been preloaded with July and August monthly passes at half their normal price, and the young riders receiving the cards will be able to enjoy unlimited rides on MetroLink and MetroBus this summer, making it a perfect option to ride Metro to summer programs at the Jackie Joyner-Kersee Center, located adjacent to the Jackie Joyner-Kersee Center MetroLink Station, or to other camps, activities and opportunities throughout the region. The Gateway Go Cards were made possible through the generosity of Regency Enterprise Services.
"Our programs help thousands of young people improve their lives every year, but that's only if they are able to get here and participate," said Jackie Joyner-Kersee, Olympic Champion and Chairwoman of the Jackie Joyner-Kersee Foundation. "Transportation is often a challenge, but through our partnership, Metro Transit is helping eliminate those barriers for the young people in our community."
The Gateway Go Card is a new summer fare program developed Metro Transit and Bi-State Development in partnership with the City of St. Louis, St. Clair County, St. Clair County Transit District, St. Louis County and the St. Louis Economic Development Partnership. With the Gateway Go card, area youth between 13 and 25 years old are able to purchase fares at a 50 percent discount to ride MetroLink and MetroBus. The program uses a special version of the Metro Gateway Card smart card, and young people are able to load one-ride tickets, two-hour passes and monthly passes directly to the Gateway Go Card at half the normal price.
"Jackie Joyner-Kersee is not only an Olympic champion, but a champion for improving the lives of young people in our region," said John Nations, President and Chief Executive Officer of Bi-State Development. "The Gateway Go Cards will make it easier for young people to take advantage of all of the wonderful resources at the Jackie Joyner-Kersee Center and pursue new opportunities throughout the bi-state area."
Return to Blog