February 13, 2015
In celebration of Valentine's Day tomorrow, we have been sharing the stories of couples who met on MetroBus or MetroLink. Here is a love story about Lucas and his late wife Linda. Lucas is one of our reserve MetroBus dispatchers and his fellow  dispatcher Tim Stewart wanted to share this story.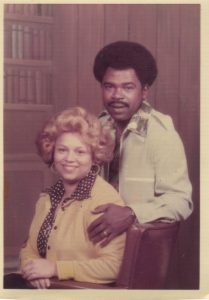 Lucas Lowery's almost 50 years with the Bi-State Development Agency has meant more than just a successful career, first as a bus operator and now as a reserve dispatcher in the Bus Operations Control Center. It's also how he met the love of his life ─ his wife Linda.
Lucas can recall the first time they met. It was a Saturday in 1967 and he had been on the job less than a year. Lucas was driving the City Limits bus and remembered making a left turn onto Skinker from Delmar. That's when he saw her. She was wearing a seashell necklace, waiting for the bus. As she boarded, Lucas tried to compliment her.
"That didn't go over too well," he said with a chuckle. "She was a person that didn't take any nonsense."
At the time, Linda was studying business management at Washington University. She would catch the City Limits bus to go to the library, and over the weeks ahead, they began to learn more about each other. Eventually, they began to spend time together off the bus, and that's when they learned just how much they had in common.
"She was fun to be with," he said.
Not only did she have a wonderful sense of humor, but she was always willing to listen.
"I could talk to her about the things I went through in Vietnam," he said. "She was sympathetic and understanding."
Lucas and Linda married in 1970 and later expanded their family with the birth of their two daughters, Korey and Kristi.
"I don't think we wasted one minute being angry with each other, where we would miss enjoying ourselves with each other," Lucas said.
Unfortunately, their time together would be much too short. Linda was diagnosed with cancer and succumbed to the disease in 1980. Before she passed, she made Lucas promise that her girls would receive an education. This promise was fulfilled.
Today, Korey works with the Hazelwood School District and is pursuing a master's degree in counseling. Kristi studied business management and is currently employed by Edward Jones.
"They got all of that from their mom," he said.
Lucas takes pride in the memories and the family the two of them made together, including three beautiful grandchildren, Madyson, Kaden and Kameryn.
"I miss her every day and I think about her every day," Lucas said. "But I look at my grandkids and I see Linda. I look at my daughters and see her. I can see her in all of them."
Return to Blog