February 16, 2022
In celebration of Valentine's Day this week, we are sharing the stories of couples who met on Metro Transit. Today's Passenger Profile features two transit lovebirds, Kenneth and Michelle.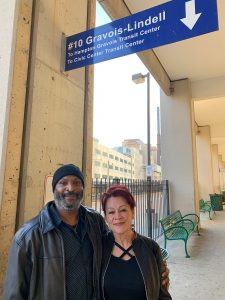 To many, the #10 Gravois-Lindell MetroBus is a means of getting to work, school or appointments. But to Kenneth and Michelle, it's much more than that. It was where they found love when they weren't even looking.
Kenneth was riding Metro while he was saving money to buy a car, and Michelle was riding Metro to get to work at BJC. The pair met on February 10, 2021, on the #10 Gravois-Lindell bus. Michelle was sitting in the rear of the bus, looking forward to her typical, quiet commute. Kenneth had other plans.
He had noticed her before and was excited to see her again that day. When she had moved her bag from the seat next to her, Kenneth took it as his chance to start a conversation.
Small talk was the ice breaker, there was no funny one-liner or elaborate romantic gesture. The small talk served its purpose though, because by the end of his trip, Kenneth had worked up the courage to ask for Michelle's phone number.
The beginning of their relationship was made up of texts and phone calls, but shortly after, Kenneth started meeting Michelle at the Central West End Transit Center when she got off work. The pair would ride the bus back to her apartment in the Grand Center Arts District, and the two spent many evenings together in the weeks that followed.
It didn't take long for them to realize they were destined to be more than bus buddies. Kenneth knew what he was looking for and had seen it all in Michelle. "Don't settle if you know what you're looking for," he shared.
As they approach their first wedding anniversary on May 2, Michelle likes to say, "When you stop looking, the best things will find you."
Return to Blog