May 5, 2023
Metro Transit Awarded $196.2 Million Federal Grant for New MetroLink Train Cars
Return to Blog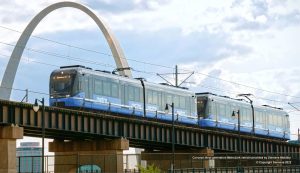 The Federal Transit Administration (FTA) announced today that Metro Transit has been awarded more than $196 million in federal grant funding to replace aging MetroLink light rail cars. MetroLink opened 30 years ago this year, and the original MetroLink train cars are reaching the end of their useful lives and are scheduled for replacement in the next several years. The federal grant will help Metro Transit replace up to 48 light rail cars.
"This successful grant award shows a unified legislative delegation, working together to benefit Missouri and Illinois. Additionally, the Federal Transit Administration has once again stepped forward to advance transit in the St. Louis region," said Taulby Roach, Bi-State Development President and CEO.
Metro Transit is a valuable economic growth asset for St. Clair County, St. Louis County and the City of St. Louis. "The regional economy is driven by public transit access to jobs, health care, and entertainment. This major award means our transit system will continue to move into the future with reliable, environmentally friendly, state of the art modern trains," Roach said.
The 30-year-old MetroLink cars are well maintained and have already exceeded their projected useful lives of 25 years in service. As a credit to the nationally recognized Metro Transit maintenance teams, some of these legacy light rail vehicles have logged more than 1.7 million miles since going into service in July 1993, and are expected to average 1.8 million miles before they are finally decommissioned in the next four to five years. Out of the 31 original MetroLink light rail vehicles, 25 of them are still in service and will continue to be for the next few years until they are replaced by the new light rail vehicles. Metro Transit is currently negotiating with Siemens, the company awarded the contract for the MetroLink light rail vehicle replacement program.
The MetroLink fleet replacement program meets the U.S. Department of Transportation's priorities of renewing public transit systems, advancing racial equity, connecting communities to jobs and health care, and reducing greenhouse gas emissions.
Return to Blog