April 7, 2021
Metro Transit Connects Area Residents to COVID-19 Vaccinations
Return to Blog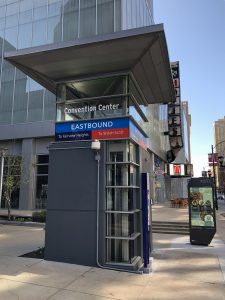 Metro Transit is a convenient and accessible option to reach The Dome at America's Center in downtown St. Louis, which will be offering thousands of free COVID-19 vaccinations over the next eight weeks. The Convention Center MetroLink Station is located at Washington Avenue and 6th Street, just two blocks south of The Dome at America's Center, and three MetroBus routes serve stops immediately adjacent to The Dome: #32 Dr. ML King, #40 N. Broadway and #174X Halls Ferry Express.
A one-ride fare is just $1 on MetroBus and $2.50 on MetroLink. To plan your trip, download the Transit app to your mobile device, use our Trip Planner and schedules, or contact Metro Transit Information at 314-231-2345 (phone), 314-207-9786 (text) or through web chat by clicking the red icon on the bottom right of this page. Remember: Masks or face coverings are required for anyone while riding MetroLink and MetroBus, and at MetroLink stations and Metro Transit Centers.
The Federal Emergency Management Agency (FEMA) plans to administer up to 168,000 COVID-19 vaccine doses at The Dome over the next two months, beginning on April 7. It will operate seven days a week from 8 a.m. to 6 p.m. for eight weeks. Appointments are strongly encouraged as it will save you time, but are not required. You will have an opportunity to register on-site.
If you're a Missouri resident, you can register through the State of Missouri's Vaccine Navigator website or by calling 1-877-435-8411. After registering, eligible residents will be contacted with information about the vaccination appointment date and time. The vaccination site is located inside the concourse level of The Dome at America's Center at the corner of Broadway and Cole. The City of St. Louis is offering free parking just north of The Dome.
Return to Blog