September 8, 2020
Metro Transit Expands Partnership with City of St. Louis Sheriff's Office
Return to Blog
Metro Transit riders traveling through St. Louis will see more law enforcement officers patrolling the transit system starting this week. Metro Transit and the City of St. Louis Sheriff's Office are strengthening their partnership to add new patrols at MetroLink stations, Metro Transit Center and on MetroLink trains.
The partnership began in late 2019, and allowed Metro to hire off-duty deputies from the sheriff's office to provide security on the transit system. Over the last nine months, 16 deputies have been serving as off-duty secondary officers at several Metro Transit locations in the city of St. Louis. Beginning this week, those numbers will increase to a total of 42 deputies available as secondary officers.
"Last year when we saw an increase in incidents on Metro, I met with Taulby Roach and the Metro security advisors to see if the Sheriff's Office could provide any support. It turns out we were able to help out," said Sheriff Vernon Betts. "Since our involvement, we have seen a notable decrease in incidents, and I am happy Metro wants to expand this partnership. Deputies are there to provide backup to Metro security and enforce decorum on MetroLink. We have found that when you stop disruptive behavior, it leads to a decrease in incidents that rise to the level of criminal infractions."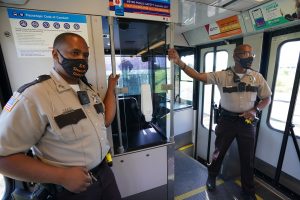 Law enforcement is an important component of Metro Transit's comprehensive security strategy. Over the last twelve months, Metro Transit has been working with its partners to increase the number of secondary officers available to support transit security and provide a stronger law enforcement presence on the system. In addition to the City of St. Louis Sheriff's Office, Metro Transit has agreements for secondary officers with the Metropolitan St. Louis Police Department and the St. Clair County Sheriff's Department. Currently, between those three departments, Metro Transit now has a pool of more than 100 law enforcement officers and deputies available to work as secondary officers.
These secondary officers support full-time police officers and deputies from the St. Louis Metropolitan Police Department, St. Louis County Police Department and the St. Clair County Sheriff's Department as well as Metro Transit Security Specialists and contracted G4S security guards who are assigned throughout the system.
Click here for more information about Metro's safety and security efforts.
Return to Blog