August 26, 2020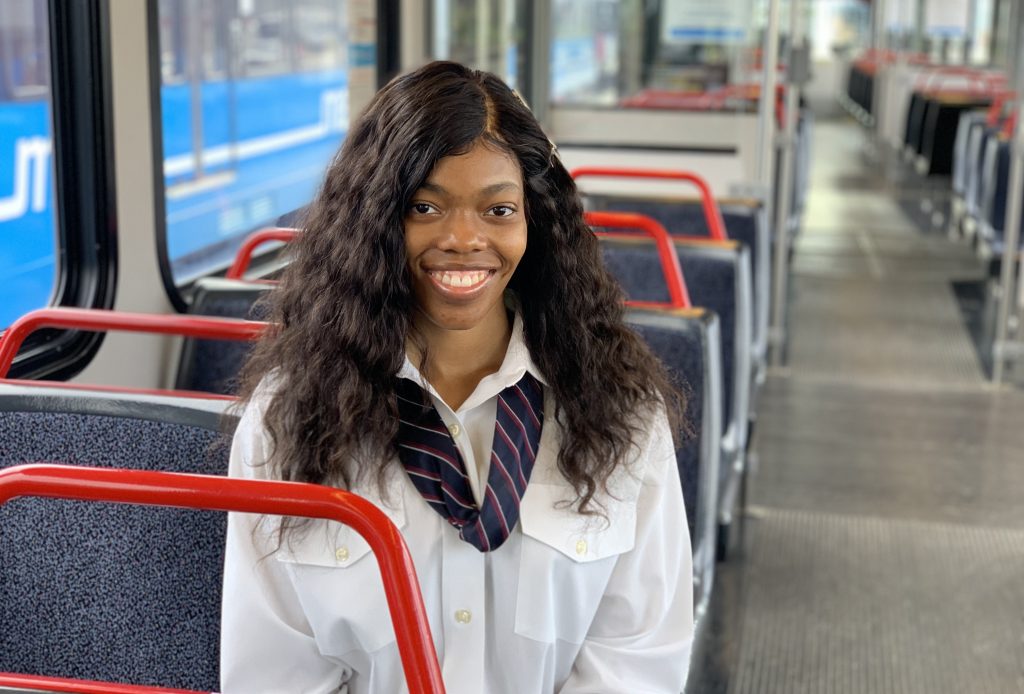 Our team members work hard to keep our region moving every single day. From operators to customer service, maintenance to mechanics, and operations to public safety, we bring the best of the best together to bring progress, collaboration and innovation to our communities. We want to share their stories, so stay tuned for more team member spotlights.
Shaftia is one of the faces in the driver's seat on our MetroLink trains. She has worked for Metro Transit for 5 years, starting out as a MetroBus operator. She drove the bus for 4 years before becoming a train operator.
She chose Metro because she wanted to do something different and challenge herself. Her coworkers are there for her, and as a team they look out for each other – always communicating about anything they see along their routes. She likes the great benefits and flexibility Metro has to offer, and also loves talking to people and helping passengers.
In fact, the most exciting part of her day is when a kid gets on board – she says their faces light up when she blows the horn or dings the bell. Shaftia has two children who also love trains, so she makes sure to give that special experience to our younger passengers.
Her favorite stop is the Shiloh-Scott MetroLink Station, because of the ambiance. At the far east end of the MetroLink system, it's away from the hustle and bustle of downtown with birds that fly around singing and chirping all day. And, when she was a bus operator, two of her favorite routes to drive were the #12 O'Fallon-Fairview Heights or #1 Main Street–State Street. On those longer routes, she would get to see a lot of people.
Shaftia enjoys spending her time away from work teaching her kids new things like cooking, drawing and playing sports. She is also very creative, and likes to make candles, soaps, body scrubs and lotions. Her "me-time" is when she is in the kitchen making candles for people.
Check out our Q&A with Shaftia below to learn even more.
---
What was your first job?
My first job was at White Castle. I was 16, and the job was hard because you did everything there – you sweep, you clean the parking lot, you make the food, you work the front, you work the register. If you did that job, you could do anything.
What energizes you at work?
The people. People keep the environment warm and you feel like you are dealing with family. It doesn't feel like we are working with strangers.
Do you have a secret talent?
This one needed to be demonstrated. Click here to see her secret talent! 
Give us 3 words to describe Metro.
Fast-paced, courteous, safety
Any advice for new riders?
I would tell you to ride in the front if you don't know where you are going. Don't be scared to ask for directions. I want you to get to where you are going and be on time.
---
When you're out riding with us, make sure to pause and thank our team members for what they do. We could not move the region without them. Thank you, Shaftia!
Return to Blog
Categories:
Metro Lifestyle
,
Team Metro