September 26, 2023
Metro Transit to Test Single-Car MetroLink Train Service Starting in October
Return to Blog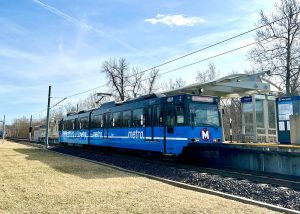 Updated 9/29: Added new details on how single-car service will operate.
MetroLink service will look different starting on Monday, October 2, as Metro Transit launches a pilot program to put some single-car trains into daily service instead of the two-car trains that MetroLink typically operates. Metro Transit will evaluate the flexibility and resource usage of single-car train service and see how it may be applied to improve transit service for customers.
"The pandemic has changed our region in a number of ways, including how people travel and how they use transit," said Charles Stewart, Chief Operating Officer of Metro Transit. "We'll be testing single-car service this fall to see if more flexibility on MetroLink makes better use of our workforce resources and provides opportunities to try out new innovative options that may better serve the changing travel patterns of our MetroLink riders."
During the pilot period:
Some single-car trains will replace two-car trains on both the Red Line and Blue Line, seven days a week.
Two-car trains will be in service for trips with higher ridership, including during morning and evening rush hours and during any local special events (e.g., sporting events, concerts).
Single-car trains will be used during the weekends and on holidays where there are no planned special events.
MetroLink Operations will constantly monitor service during the pilot period and will make adjustments as needed.
Operating single-car MetroLink trains provides some advantages, including:
One MetroLink train car is more efficient for security to patrol.
Wear and tear on the machinery is reduced in half.
Service can be provided more efficiently at current ridership levels.
During single-car MetroLink service, customers are reminded that trains will pull completely forward to the front end of the platform. Please be prepared to board and exit the train from the front car area near the operator. Customers who need assistance or who have questions should contact Metro Transit Information at 314.231.2345 (phone) or 314.207.9786 (text) from 7 a.m. to 6 p.m., Monday through Friday.
Return to Blog
Categories:
Metro Lifestyle
,
Rider Alert