October 20, 2022
Missouri Public Transit Association Honors Three Metro Transit Operators
Return to Blog
Three Metro Transit team members were recently honored with the 2022 Missouri Transit Operator Champions award from the Missouri Public Transit Association (MPTA). The three operators come from all three arms of Metro Transit: Robert Dale – MetroBus Operator, Todd Troppmann – Metro Call‑A‑Ride Operator, and Ida Wicker – MetroLink Operator. This recognition honors transit operators across the state for their heroism and selfless dedication.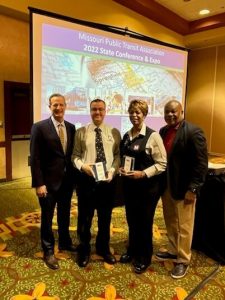 These operators represent the very best of our organization. MetroBus Operator Robert Dale consistently scores high marks in the areas of attendance, safety, on-time performance and customer feedback. In 2021, he had a 95.32% on-time-performance, and is in the top ranks among all MetroBus operators in mileage with zero preventable accidents and customer satisfaction.
Metro Call‑A‑Ride Operator Todd Troppmann is one of the highest-performing line instructors for Call‑A‑Ride and was recognized as a 2022 Call‑A‑Ride Operator of the Year. His positive outlook supports his work as a line instructor, operator and resource for fellow van operators and the Metro Call‑A‑Ride Dispatch team.
MetroLink Operator Ida Wicker has been with MetroLink since 2000, and has served as a MetroLink Operator for the last 10 years. Throughout her tenure, Ida has excelled in the areas of attendance and performance, and delivers a fantastic work ethic while serving customers. She regularly supports the team and the community by making herself available to work overtime on an ongoing basis.
"Despite countless challenges these past two years, transit operators have provided critical public transportation services in every county, every single day in Missouri," commented Kimberly Cella, executive director of the Missouri Public Transit Association. "This would not be possible without the dedication of hundreds of operators, many of whom go way beyond the call of duty to assist riders. They leave lasting impressions on those within the communities they serve, but their stories often go unnoticed by the masses. This award aims to recognize them for their dedication."
To learn more about the Missouri Public Transit Association and its work, visit www.mopublictransit.org.
Pictured – Left to Right: Taulby Roach, BSD President & CEO; Todd Troppmann,  Metro Call‑A‑Ride; Ida Wicker, MetroLink; Charles Stewart, Metro Transit Executive Director (Not pictured – Robert Dale, MetroBus)
Return to Blog
Categories:
Team Metro