January 20, 2023
Periodic Changes to Evening and Weekend MetroLink Service
Return to Blog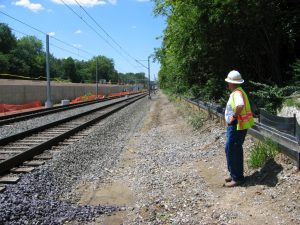 On some weekday evenings and weekends this year, MetroLink will operate on a single track at different locations to allow Metro Transit teams to make upgrades and add new customer enhancements to the MetroLink light rail system.
These modified operations will begin next week, with MetroLink trains operating on a single track on Monday through Friday (January 23-27) from 6 p.m. to end of service, and all day on Saturday and Sunday (January 28 & 29) from the beginning of service to end of service. MetroLink customers can check the weekly single track schedule by visiting MetroStLouis.org/MLProjects.
During single-track operations, Blue Line trains will only operate between the Shrewsbury-Lansdowne I-44 and Forest Park-DeBaliviere MetroLink Stations.
Westbound Blue Line passengers will need to board a Red Line train between the Fairview Heights and Central West End MetroLink Stations, and travel to the Forest Park-DeBaliviere Station to transfer to a Blue Line train and continue their westbound trips.
Eastbound Blue Line passengers will need to transfer to a Red Line train at the Forest Park-DeBaliviere Station to continue their eastbound trips.
Red Line MetroLink passengers may experience delays of 5 minutes.
Passengers should allow extra time when transferring between Red Line and Blue Line.
These periods of single-track operations are needed to allow maintenance and construction crews to make repairs and maintain the MetroLink system, and also install new infrastructure and amenities to improve the customer experience. This includes replacement of station staircases, installing a new public-address system and digital displays, the rehabilitation of the 8th & Pine and Convention Center MetroLink Stations, repairing damage and replacing parts due to the July 2022 flash floods, and upgrades to the real-time camera system and new station security infrastructure as part of the Secure Platform Plan.
Customers who have question or need assistance should contact Metro Transit Information at 314.231.2345 (phone) or 314.207.9786 (text), available Monday to Friday from 7 a.m. to 6 p.m.
Return to Blog
Categories:
Construction
,
Rider Alert