June 28, 2018
Recent Investments Bring New Energy to Laclede's Landing
Return to Blog
Transit-Oriented Development (TOD) refers to the investment that takes place at and around transit infrastructure. TOD is often a catalyst for economic growth – improving access to jobs, housing and amenities, and helping promote active lifestyles and a reduced dependence on automobiles.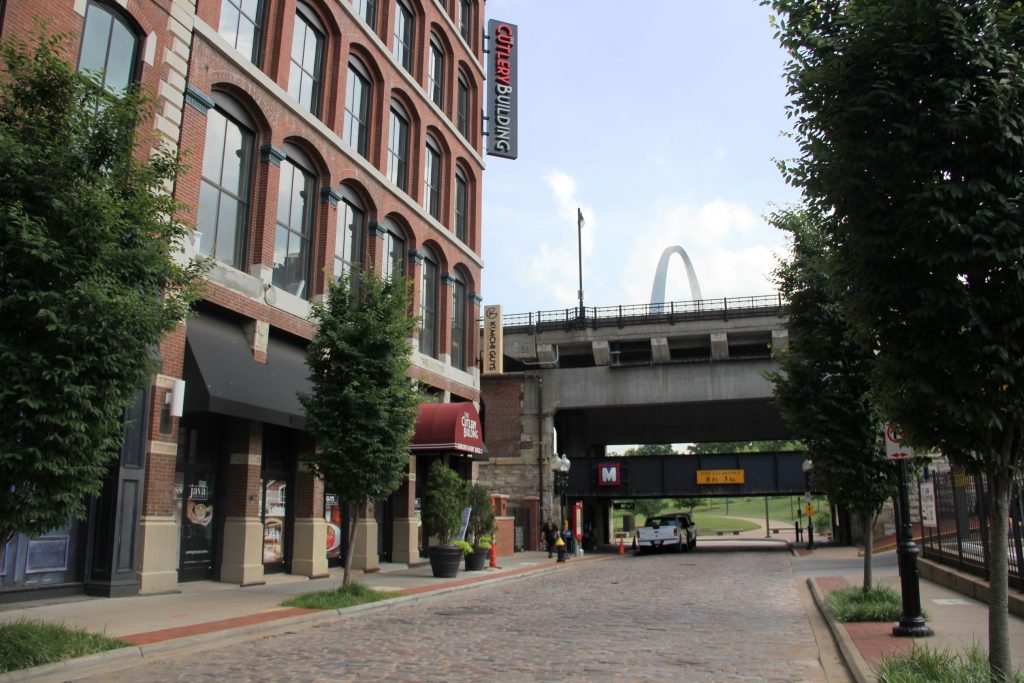 Laclede's Landing has been a little quieter over the past few years than it was before renovations started on the nearby Gateway Arch grounds and St. Louis Riverfront. Recently announced private investments in Laclede's Landing, along with the $380 million Gateway Arch National Park project nearing completion, are starting to reignite the vibrancy of this historic riverfront area of downtown St. Louis.
This is all the more exciting as the region looks forward to welcoming thousands of visitors to the St. Louis Riverfront and Laclede's Landing. MetroLink is one of the best ways to access the area with the Laclede's Landing MetroLink Station situated perfectly between Laclede's Landing and the Gateway Arch National Park.
New Investment
Bi-State Development's former headquarters building on Laclede's Landing has been redeveloped by Advantes Development into a new mixed-use development called Peper Lofts. The development includes ground floor retail, second floor office space created for Abstrakt Marketing, and 49 apartments on the upper floors available between $900 and $1,450 a month. This new development will help generate around-the-clock activity in Laclede's Landing. Additionally, both residents and workers can take advantage of the nearby Laclede's Landing MetroLink Station and walk just a minute to reach their home or office.
Brian Minges, President of Advantes Development, sees the value of public transportation, specifically for younger riders.
"The Landing having its own station 100 feet away from our current redevelopment site allows for our tenant demographic to utilize easy and accessible mass transit to visit all facets of the central corridor from our location. More and more of the younger generation are becoming more environmentally conscious with the mindset of using more green public means of transportation, and this was a great opportunity to market and offer such to incoming tenants."
The Cutlery building is also being rehabilitated. SO Hospitality Group is redeveloping the 50,000-square-foot building with three event spaces; a fast-casual restaurant called Kimchi Guys; a coffee shop called Miss Java; and about 16,000 square feet of office space.
VUE, the recently opened event space on the fifth floor, has already booked 44 events so far, demonstrating the demand for event spaces in this historic and transit-accessible neighborhood.
---
"The neighborhood is seeing a lot of investment, old buildings being updated, bringing residents to the neighborhood, and the proximity to the MetroLink station makes it a really easy place to get to." – Tom Milford, Director of Real Estate for Drury Development
---
Christina Walsh, Events and Catering Director with SO Hospitality, sees the business advantage in this location.
"We are very excited that 612 North Event Space + Catering, Kimchi Guys, and Miss Java are conveniently located next to the MetroLink station. This makes all of our concepts accessible to anyone who wants a great cup of coffee or a delicious taco."
Drury Development is investing more than $2 million to rehabilitate the 64,000-square-foot historic Witte Hardware Building, which includes five floors of loft-style exposed structure office space and 6,500 square feet of vacant ground floor restaurant or retail space. The improvements focus on meeting needs of the office tenants and attracting new creative and technology-driven tenants. The improvements include a makeover of the main common areas, modernization of the elevators, upgraded conference rooms and new restrooms, new carpet and furnishings in the common areas, as well as energy efficiency improvements with new HVAC units, VAV boxes, and LED lighting.
"We believe strongly in the future of the Landing" said Tom Milford, Director of Real Estate for Drury Development. "The neighborhood is seeing a lot of investment, old buildings being updated, bringing residents to the neighborhood, and the proximity to the MetroLink station makes it a really easy place to get to."
To round out the newly revitalized neighborhood, Great Rivers Greenway purchased the old Switzer building site a couple years ago and is breaking ground on the site to build the Katherine Ward Burg Garden, which is a new public green space and plaza for residents, workers and transit riders to enjoy. The plans include stepped terraces, curving seat walls and an iconic trellis. Susan Trautman, CEO of Great Rivers Greenway, is excited to see the benefit of the green space for the area.
"Burg Garden will be a great spot for people to relax a little, watch the river or trains go by or meet up with each other in between the MetroLink station, the revitalized Arch grounds and all the destinations on Laclede's Landing," she said.
As president of Laclede's Landing Community Improvement District, John Clark has seen the growth of the area over time, and the impact of transit and the Gateway Arch grounds on building a vibrant neighborhood.
"You can really feel the momentum starting to build here in Laclede's Landing with significant investments pouring into residential and office projects and new dining and entertainment establishments opening up. These developments will draw more people to The Landing, a unique historic neighborhood where you can live, work, and play."
Blueprints:
Project: Peper Lofts
Developer: Advantes Development

106,000 square feet of office space and ground floor retail
49 apartment units renting for $900-1,450
100 new jobs by Abstrakt marketing and $12 million in investment to rehabilitate an old building

Timeline: Construction began in 2017 with planned completion in 2018
Project: Witte Building
Developer: Drury Development

$2 million invested to rehabilitate the building at 707 N. 2nd Street
50,000 square feet renovated for office and restaurant space

Timeline: Construction began in October 2017 with planned completion in fall 2019
Project: The Cutlery Building
Developer: SO Hospitality

$3 million invested to rehabilitate the building at 612 North 2nd Street
50,000 square feet renovated for three event spaces
Fast-casual restaurant and coffee shop space
16,000 square feet of new office space

Timeline: Construction began in September 2017 with planned completion in early 2019
Project: Katherine Ward Burg Garden
Developer: Great Rivers Greenway

$2,000,000 invested to build a new garden at old Switzer building site
Stepped terraces, curving seat walls, iconic trellis

Timeline: Construction scheduled to begin in September 2018 with planned completion in fall 2019
Return to Blog
Categories:
Economic Development