January 8, 2018
Regional Leaders Break Ground for Senior Apartments at Swansea MetroLink Station
Return to Blog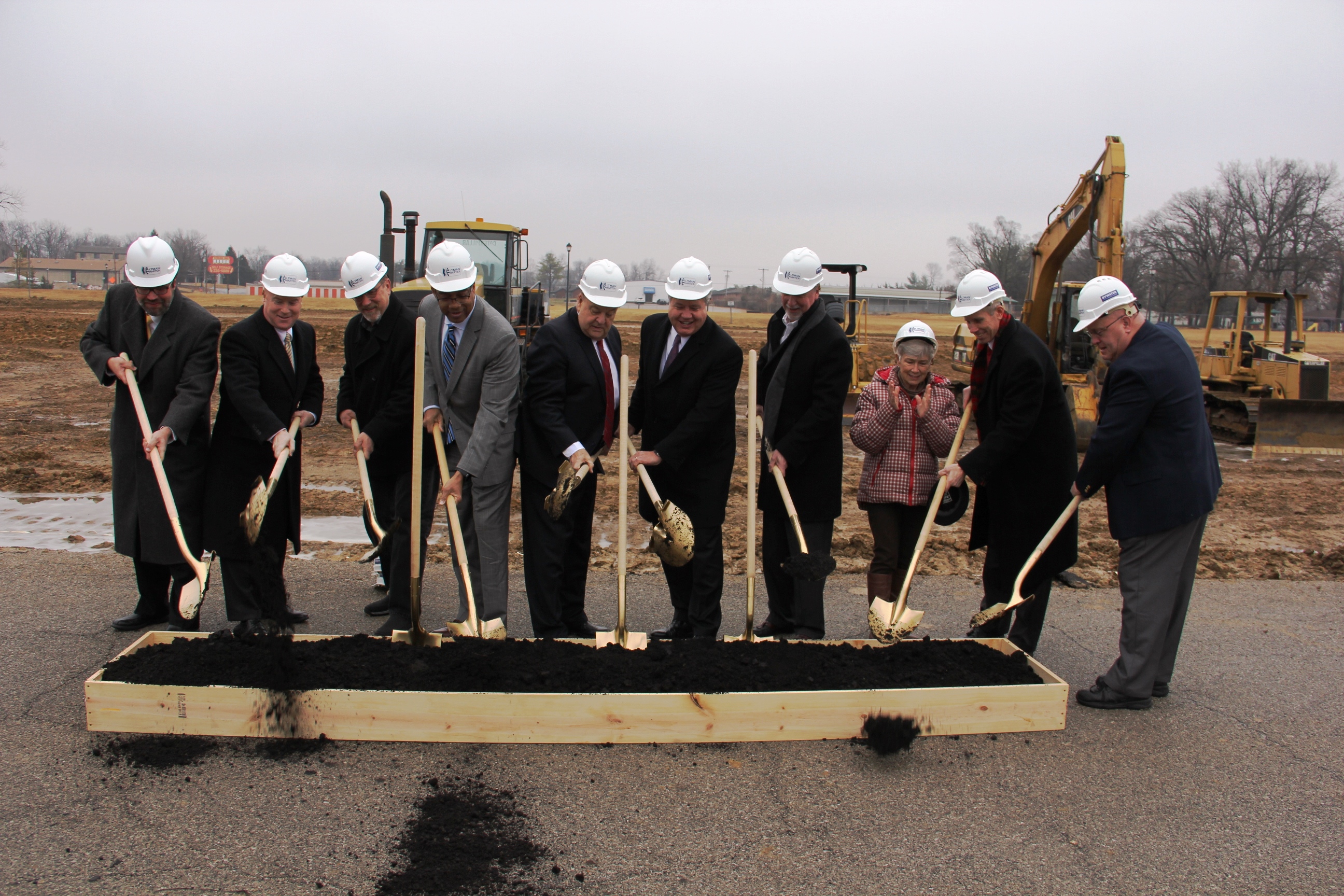 Southwestern Illinois Development Authority (SWIDA), in partnership with Bywater Development Group and Bi-State Development, joined with federal, state and local elected officials and other stakeholders and guests today to mark the official start of construction on Metro Landing of Swansea. The $10.9 million, transit-oriented development (TOD) will bring senior apartment living adjacent to the Swansea MetroLink Station in Swansea, Illinois.
SWIDA and Bywater, which are jointly developing the project, secured the majority of the financing from the Illinois Housing Development Authority (IHDA), with additional construction financing provided by PNC Bank. Additional support comes from the Illinois Department of Commerce and Economic Opportunity (DCEO) and Ameren, along with the St. Clair County Intergovernmental Grants Department.
Metro Landing of Swansea will feature a three-story building with 62 affordable one- and two-bedroom apartments for older adults seeking an independent lifestyle. Located next to the Swansea MetroLink Station, residents will have car-free transportation options via MetroLink and MetroBus to conveniently access restaurants, retail, entertainment venues, recreational locations, employment centers, and medical facilities throughout the bi-state region. The Swansea Station is located on the MetroBikeLink trail, so residents will also be able to utilize the trail for exercise and recreation.
Speaking at the groundbreaking event, SWIDA Chairman James Nations commented, "You'll hear the word partner a lot today, as this project required the collaboration and support of a number of entities, including not just our development and financing partners, but also St. Clair County Transit District and the Village of Swansea. Metro Landing of Swansea is truly an example of how public and private partnerships, coupled with broad community support, can lead to a significant community benefit. As the need for quality senior housing continues to grow, this project is an excellent way for SWIDA to contribute to the region's active senior housing choices."
"Thanks to an exceptional team effort, this new development will be constructed next to the Swansea MetroLink Station, providing dependable transportation options and greater independence for older adults in this community," said John Nations, President and Chief Executive Officer of Bi-State Development, which operates Metro Transit, the public transportation system for the bi-state St. Louis region. "As the newest Metro transit-oriented development project to launch in our region, Metro Landing of Swansea is a testament to the positive benefits and value the Metro transit system brings to the entire bi-state region."
Mike Lundy, executive director of SWIDA, said, "It has been great working with Bi-State Development to move this development forward. We have all worked extremely hard to get to this milestone today and we look forward to delivering a terrific development for the Village of Swansea."
By utilizing undeveloped land at the Swansea MetroLink Station, this project will allow residents to take full advantage of the region's more than $2 billion investment in public transit. For older adults, this translates into reliable transportation options and greater independence, whether they are headed out of town or to work, the store, the movies, the doctor's office, or out to eat. In addition, transit-oriented development drives economic growth, and since 2011, more than $6.4 billion in commercial development has been completed or is currently under construction within a half-mile radius of MetroLink stations.
Swansea Mayor Mike Leopold highlighted this broader impact he expects the project to have. "This development is already sparking inquiries from others who are expressing potential interest in developing additional projects in the vicinity," noted Leopold. "We fully anticipate that it will be a catalyst for further development around this MetroLink station, attracting new investment that will strengthen our community and enrich what we have to offer to existing and potential residents and businesses."
"Metro Landing of Swansea will serve as a model for transit-oriented senior housing that creates both a positive impact on the community and an ideal living environment for its residents," said Aaron Burnett, president of Bywater Development Group. "It is reflective of a very strong and effective public/private partnership and our organization is honored to be a part of this collective effort."
"This is a smart project that makes use of existing transit infrastructure and investment," said John Langa, Vice President of Economic Development for Bi-State Development. "Additional thanks also needs to go to the Federal Transit Administration for all of their help on this project."
U.S. Sen. Dick Durbin (D-IL), who played a key role in securing support from HUD for the project, was among those on hand to celebrate the official groundbreaking. "This transit-oriented development will help revitalize the community and provide high-quality, affordable housing that allows active seniors to live more independently," Senator Durbin said. "I'm glad to have helped secure federal support for this project and will continue fighting for investments that promote the health and well-being of Metro East communities."
St. Louis-based Altman Charter is serving as general contractor on the project, which is scheduled for completion in spring of 2019.  Chicago-based Worn Jerabek Wiltse Architects is the architect.
Rendering
---

Return to Blog
Categories:
Economic Development