May 10, 2023
Ride MetroLink to the Scott Air Force Base Airshow on May 13 & 14
Return to Blog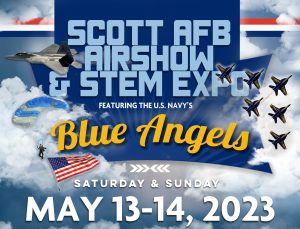 Everyone's eyes will be turning to the skies as aviation fans, families and more enjoy all of the sights, sounds and wonder of the Scott Air Force Base Airshow and STEM Expo this weekend, Saturday, May 13 and Sunday, May 14. With limited onsite parking available, MetroLink is the most convenient way to enjoy all of the festivities, including aircraft demonstrations and performances by the U.S Navy's Blue Angels.
Park your vehicle at any of 21 free Park-Ride lots at MetroLink stations in Missouri and Illinois, and ride a Red Line train to the Shiloh-Scott MetroLink Station, which is immediately adjacent to Scott Air Force Base. You can also ride the #12 O'Fallon-Fairview Heights MetroBus route to reach the Shiloh-Scott MetroLink Station.
Free Metro Transit shuttles are available that will transport visitors from the Shiloh-Scott Station to the airshow grounds. These free shuttles will travel between the Shiloh-Scott Station and the airshow grounds from 9 a.m. until 5 p.m. on Saturday and Sunday.
The cost of a round-trip ticket on MetroLink to the airshow is just $5. You can purchase a $5 Day Pass in advance as a mobile ticket using the Transit app, or at a Ticket Vending Machine located at each MetroLink station or Metro Transit Center.
To plan your trip to the Scott Air Force Base Airshow and STEM Expo, check out our schedules and maps, use the Transit app, or contact Metro Transit Information for assistance at 314.207.9786 (text) or 314.231.2345 (phone), available from 7 a.m. to 6 p.m., Monday through Friday.
Reminder: Due to construction, MetroLink will not operate between the Rock Road, Wellston and Delmar Loop Stations on Saturday, May 13, and Sunday, May 14. Bus shuttles will transport riders between these stations, please allow an extra 30 minutes to your commute if traveling through this area.
Return to Blog