May 15, 2023
Left Bank Bookstore- Destination Deals 'Merchant of The Month'
Return to Blog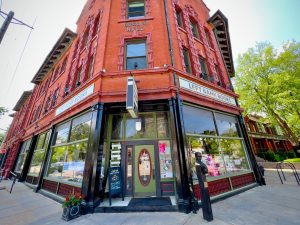 Left Bank Books is a cornerstone of the St. Louis community. It's more than just a bookstore. Left Bank Books is where books and community intersect. According to owner Kris K., "It's the place between work and home – a community space." Creating a warm and inviting environment between work and home helps ensure you're able to unwind and connect with others during your visit.
We're thrilled to select Left Bank Books as the Destination Deal "Merchant of the Month." Whether you're a book enthusiast or just looking for a unique experience, Left Bank Books has something that appeals to book lovers of every age and interest.
As the oldest and largest independently-owned bookstore in St. Louis, Left Bank has been a beloved staple of the community since it opened in 1969. With a mission to spark public conversation by curating an intelligent, relevant, and culturally diverse selection of books, it's a prime location for book lovers who want to spend their day immersed in the world of literature.
If you are riding on Metro, you can attend book clubs, various author events, writing workshops, and other community gatherings all year round with ease. The store is located at Euclid and McPherson in the historic Central West End neighborhood, just a few blocks away from bus stops along the #95 Kingshighway, #10 Gravois-Lindell, or the #97 Delmar. You can also shop online and support this independent bookstore from anywhere in the world.
As Metro's Destination Deal "Merchant of the Month," Left Bank offers customers who show their Metro pass a 10% discount off their entire purchase. This is a great opportunity to support a local business while immersing yourself in the world of literature and St. Louis community.
You can also enter for a chance to win an exclusive Left Bank Books swag bag full of goodies that will enhance your next transit trip and literary experience.
Return to Blog