November 2, 2023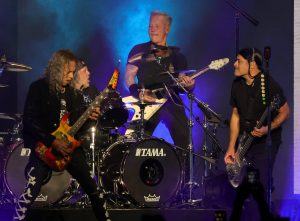 Hey there metalheads! Are you ready for a weekend of headbanging and rocking out with the legends of heavy metal, Metallica? The iconic band is making its way to St. Louis this weekend and you can count on us as your official ride to the fun. Save time, skip traffic, and avoid parking lot frenzies by using Metro Transit to get to the concerts and pre-parties on Friday and Sunday at The Dome at America's Center.
The Dome is conveniently located steps away from our Convention Center MetroLink Station and connects with MetroBus routes #40 N. Broadway and #174X Halls Ferry Express, making Metro Transit the perfect transportation mode for Metallica fans this weekend.
Downtown traffic and parking during events can be a hassle- stressful, pricey, and even dangerous. When you use Metro, you can get to the show with ease by parking your car at the nearest Metro Park-Ride lot and take the Red Line or Blue Line MetroLink downtown. To make your ride even smoother, use the Transit app to plan your trip and purchase a $5 Day Pass in advance to enjoy unlimited rides on MetroLink and MetroBus for the entire day.
Both the Friday and Sunday concerts start at 6 p.m., but come early and make sure to swing by the pre-concert party to mingle with fellow Metallica fans and stop by the Metro Transit table to take pics with our #RIDEON Crew and grab free goodies.
Have fun this weekend and rock on!
Return to Blog