October 26, 2023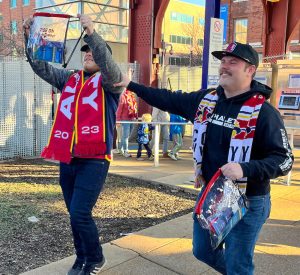 Are you as excited as we are for CITY SC's playoff debut on Sunday? We sure hope so! If you are looking for the best way to get to the big game or watch party at CITYPARK, we've got you covered.
St. Louis CITY SC will host their first playoff match against Sporting KC on Sunday, October 29, at 9 p.m. You can still take part in the fun even if you don't have a ticket. Cheer on your team at the free, CITY SC-hosted Playoff Watch Party at Lou Fusz Plaza, next to CITYPARK, where you can bring blankets and chairs, enjoy food and drinks, and watch the match from a big screen.
MetroLink is a convenient and affordable way to join the thousands of soccer fans heading downtown. Park for free at any of 21 free Park-Ride lots at MetroLink stations in Missouri and Illinois, and ride the train to the Union Station MetroLink Station, which is located just a couple blocks south of CITYPARK, steps away from the fun.
Some benefits of using MetroLink to get to the MLS Cup Playoff: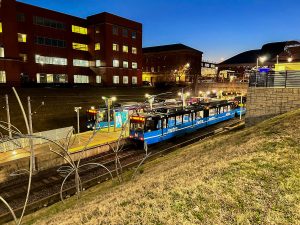 Avoid sitting in traffic. No need to worry about navigating through crowds and road closures when you park your car and hop on MetroLink.
Save on cost. Purchase a $5 day Metro pass to secure your ride to and from the game while avoiding expensive parking lots or outrageous Uber prices.
MetroLink is an easy and efficient way to get to the game and Transit App makes trip planning even easier. Download for free and plan your trip ahead of the game.
Help paint the CITY red in your CITY SC gear. Although our trains are blue, we've seen fans fill them with our team's colors, and it's a sight to see!
We can't wait to see you at CITYPARK – RIDE ON to victory!
Return to Blog