March 31, 2023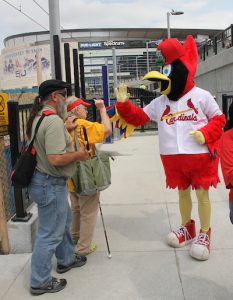 Spring's here – and St. Louis is alive with action this month! Whether it's cheering on your favorite hometown sports team or exploring all that the city has to offer – get in on the action with Metro Transit. Check out this list of April events you won't want to miss.
Go Team, Go! 
St. Louis sports teams are making creating a lot of excitement this year with high attendance and winning streaks. Whether it's the Blues, Battlehawks, St. Louis City SC, or Cardinal baseball this April, there's no need to search for parking spots or navigate through traffic – just relax & ride on Metro to cheer on your favorite team. Click here to learn how easy it is to ride to the big game.
Your Funny Bone Fix
If you need a good laugh, there's no better way to fix your funny bone than by attending a comedy show. Don't miss out on an opportunity to boost your mood and get your daily dose of humor!
April 5: David Cross at The Sheldon Concert Hall. Use the #10 City Limits or the #70 Grand and enjoy the laughter.
April 21: Katt Williams is at The Chaifetz Arena which can be easily accessed by MetroBus #94 Page or #10 City Limits.
April 29: Drew Lynch at Helium & Elements Restaurant. Take a trip on the Blue Line MetroLink and get off at the Richmond Heights MetroLink Station to get to the show.
April Music and Concerts
St. Louis is known for its vibrant music scene, and this month is no exception. Visitors can enjoy a diverse range of music performances and concerts, including jazz, blues, country, and rock. Take a look at who you'll see in St. Louis this month:
Metro Transit Connections:
Enterprise Center or Stifel Theatre
MetroLink: Civic Center Transit Center
MetroBus: #4 Natural Bridge, #10 Gravois-Lindell, #11 Chippewa, #19 St. Louis Ave., #30 Arsenal, #31 Chouteau, #32 Dr. ML King, #40 North Broadway, #41 Lee, #73 Carondelet, #74 Florissant, #94 Page, #97 Delmar
MetroBus: #10 City Limits or #94 Page
MetroLink: Delmar Loop MetroLink Station
MetroBus: #2 Red, #16 City Limits, #91 Olive, #97 Delmar
A Final Spring Forward

The days are much longer and it's the perfect chance to enjoy local events with friends and family. Other April events include:
April 1: Gateway Outdoor Expo in Tower Grove Park
April 1-2: GO! St. Louis Marathon in Forest Park
April 22-23: Earth Day Festival
Tower Grove Park can be accessed by a trip on MetroBus #30 Arsenal, #70 Grand or, #95 Kingshighway. Ride on MetroLink to the Forest Park-DeBalieviere Station or take the #90 Hampton MetroBus to enjoy everything Forest Park has to offer this month.
Plan your Trip Ahead
To plan your trip to any of these great local events, use our online Trip Planner or download the Transit App to plan your trip and pay your fare, or contact Metro Transit Information Desk at 314.231.2345 (phone) or 314.207.9786 (text), available 7 a.m. to 6 p.m., Monday through Friday.
Return to Blog
Categories:
Metro Lifestyle