March 28, 2023
East Riverfront MetroLink Station Remains Closed for Construction
Return to Blog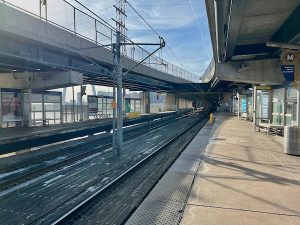 The East Riverfront MetroLink Station remains closed and will not be available for sports fans to utilize on baseball Opening Day in St. Louis this Thursday, March 30. Baseball fans who normally park at the East Riverfront Station and ride MetroLink to Busch Stadium are encouraged to instead park their vehicles and catch MetroLink at the 5th & Missouri MetroLink Station, located about one mile east of the East Riverfront Station at 150 N. 6th Street in East St. Louis, IL.
The East Riverfront Station has been temporarily closed since January to allow for construction work at the station, including platform improvements and the replacement of both staircases. Supply chain issues have delayed the construction work at the East Riverfront Station, and it will remain closed until the completion of all station updates later this spring.
Two-Car Train Service
MetroLink has resumed the operation of two-car trains on all Red Line and Blue Line trips. In mid-February, some Blue Line and Red Line trips were in service with single-car trains after several older MetroLink train cars were in need of repairs due to voltage issues with the camera systems. The repairs have now been completed and MetroLink is back to full capacity with two-car train service on all trips.
Return to Blog