February 27, 2023
Ride On to a Victory: Take Metro Transit to a Big Sports Weekend in Downtown St. Louis
Return to Blog
Thousands of sports fans will pack the streets of downtown, and Metro Transit is the perfect way to get to all of the fun and excitement.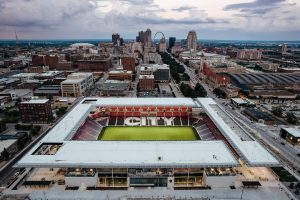 The action starts on Thursday, March 2, with the start of Arch Madness, the Missouri Valley Conference basketball tournament, at the Enterprise Center. The four-day tournament runs through Sunday, March 5. The festivities for St. Louis City SC's inaugural home game at CITYPARK Stadium begin at 6 p.m. on Friday, March 3, with the CITY Block Party, located just southeast of the stadium. The block party continues through Saturday, March 4, ending just before kick-off of St. Louis City SC's game Saturday against Charlotte FC at 7:30 p.m.
Metro Transit makes it easy to enjoy the game and all of the festivities, while helping you avoid driving in a busy downtown, traffic jams, road construction, or paying for parking. It's three simple steps:
Park your vehicle for free at any one of 21 Park-Ride lots at MetroLink stations in Missouri and Illinois.
Purchase a $5 Metro Day Pass – available at Ticket Vending Machines or purchase on the Transit App
Enjoy the ride on MetroLink to the Civic Center MetroLink Station, located just south of Enterprise Center where the Arch Madness tournament is being held, or to the Union Station MetroLink Station, located just southeast of CITYPARK Stadium where St. Louis City SC plays.
Get dropped off right in the middle of all the action and excitement!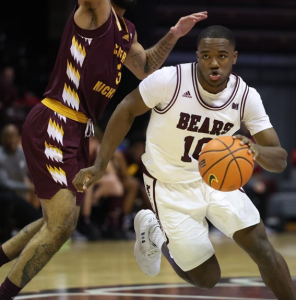 Arch Madness, is an annual basketball tournament which features the men's basketball teams of each of the Missouri Valley Conference member universities. It is the nation's second longest running site conference tournament.
The CITY Block Party on Friday, March 3 at 6 p.m. at Lou Fusz Plaza, located on the southeast side of CITYPARK Stadium, features performances by Metro Boomin, DJ Pee.Wee (Anderson .Paak all vinyl set), Mvstermind, and Kennedy Holmes who will also sing the national anthem for Saturday's game. Click here for a quick look at your trip.
To plan your trip, use our online Trip Planner or download the Transit app to plan your trip and pay your fare, or contact Metro Transit Information at 314.231.2345 (phone) or 314.207.9786 (text), available 7 a.m. to 6 p.m., Monday through Friday.
Return to Blog
Categories:
Metro Lifestyle