March 8, 2023
Use Metro to Ride On to Your St. Patrick's Day Celebration
Return to Blog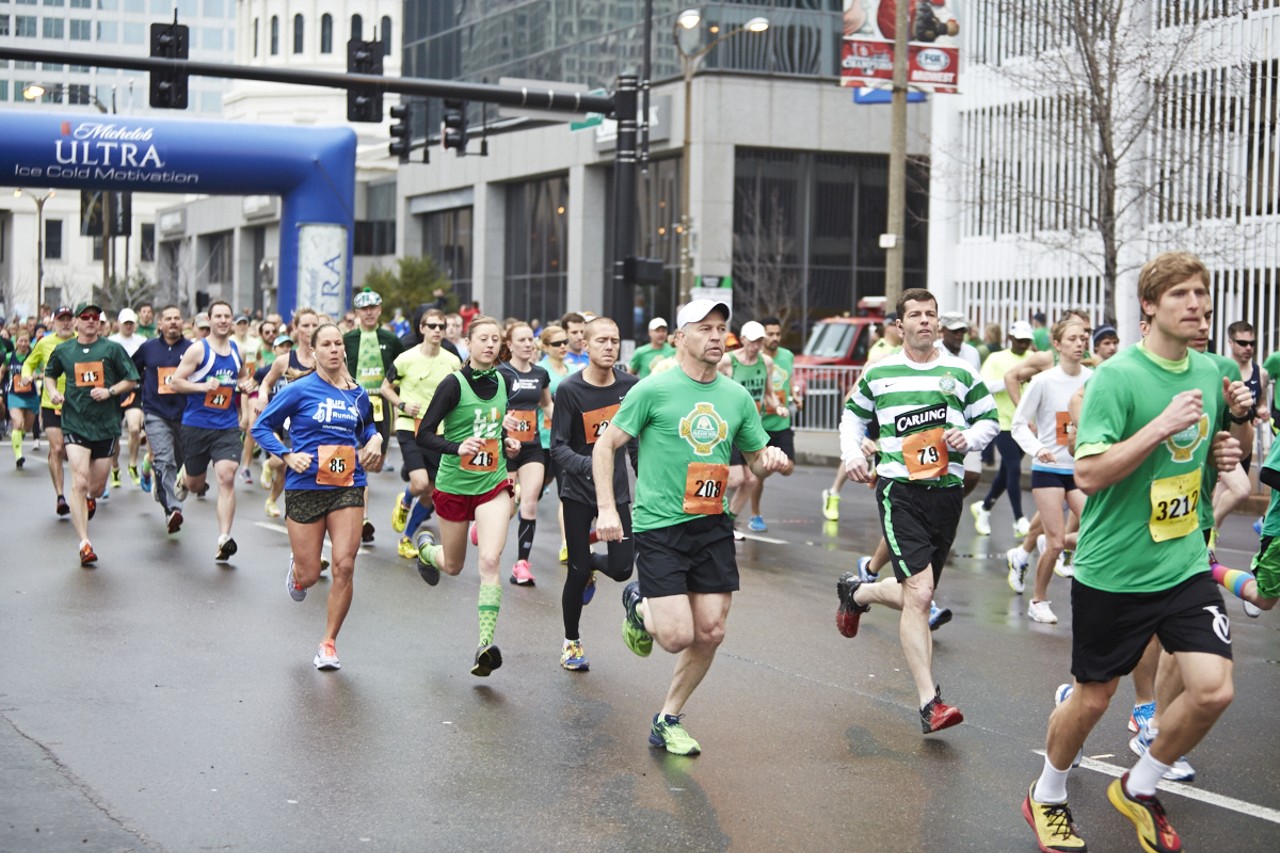 We are gearing up for another weekend of fun festivities, and this time with smiling green faces! This weekend is only the start of the traditional Irish celebrations in St. Louis and you can expect downtown streets to be filled with people, cars, and road closures. To easily navigate through busy and crowded neighborhoods, consider using Metro to help you celebrate St. Patrick's Day.
The 45th Annual St. Patrick's Day Parade Run will take place on Saturday, March 11, 2023 at 9 a.m.. The race begins at the intersection of Broadway and Walnut streets. The 5-mile run travels the streets of downtown and midtown St. Louis. Runners and spectators can ride MetroLink to the Busch Stadium Station– just steps from the start line.
The 54th annual St. Patrick's Day Parade will take place on Saturday, March 11, 2023 at noon in downtown St. Louis. It will begin at the intersection of 20th and Market, and proceed east to Broadway and Clark. Parade-goers can ride MetroLink to the Union Station, Civic Center, Stadium, or 8th & Pine MetroLink Stations, which are all near the parade route. MetroBus us also a great option for both the Parade and Parade Run, with more than a dozen routes serving the Civic Center Transit Center, located just south of the parade route and the run starting line.
On the on other side of the river, you can celebrate all things Irish with friends and family in downtown Belleville. The block party kicks off at 10 a.m. on Saturday, March 11, 2023. You can enjoy live music, DJ's, food trucks & vendors and an area dedicated to the annual celebration. Ride the #1 Main Street-State Street or #16 St. Clair Square MetroBus and head to Main Street for a full day of St. Patty Day celebrations including the Lucky Leprechaun 5k Run and Parade.
If you're looking for a celebration on St. Patrick's Day, the Annual Ancient Order of Hibernians St. Patrick's Day Parade is a St. Louis tradition. An outdoor Irish festival starts at 9 a.m. on Friday, March 17, 2023 followed by the parade  at 11 a.m. along Tamm Avenue in the Dogtown neighborhood, and is immediately followed by an outdoor Irish Festival.
The #90 Hampton serves Hampton Avenue and the #59 Oakland serves Oakland Avenue, both just a couple blocks east of Tamm Avenue.
Plan Your Trips to St. Patrick's Day Fun
Use our online trip planner, maps, the Transit App or contact Metro Transit Information to plan your trip. Metro Transit Information is available Monday through Friday from 7 a.m. to 6 p.m. at 314.231.2345 (phone) or 314.207.9786 (text).
If you're headed downtown, park at one of our free Metro Park-Ride lots in Missouri or Illinois and ride on MetroLink to one of our downtown stations to the St. Patrick's Day Run & Parade.
Please note there may be MetroBus reroutes due to the festivities that could affect your commute. Be sure to check rider alerts for the latest information on your route before heading out to this weekend's festivities.
Return to Blog
Categories:
Metro Lifestyle