September 13, 2023
Ride On to the Great Forest Park Balloon Glow and Balloon Race on September 15 & 16
Return to Blog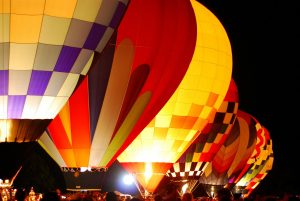 Metro Transit makes it easy for you and your family to enjoy one of the St. Louis region's most popular traditions, the Great Forest Park Balloon Glow and Balloon Race in Forest Park this weekend, September 15 and September 16. Now in its 50th year, the Balloon Glow and Balloon Race attract families and visitors from all over the region, and MetroLink provides a convenient way to enjoy all of the fun and excitement this weekend without worrying about finding a place to park or sitting in traffic and navigating construction and street closures.
MetroLink is a great transportation option for the Balloon Glow on Friday, September 15, or for Balloon Race on Saturday, September 16. Park your car at any one of 21 free Metro Park-Ride lots in Illinois and Missouri, buy a MetroLink ticket on your phone or at the Ticket Vending Machine at the MetroLink station where you are boarding and ride MetroLink to the Central West End MetroLink Station, located about a half-mile from the Balloon Glow and Balloon Race festivities taking place at Emerson Central Fields in Forest Park. From the Central West End Station, take the west exit and walk south on Euclid. Go west on Barnes Jewish Hospital Plaza, cross Kingshighway into Forest Park, and then follow the walking paths to Jefferson Drive and Emerson Central Fields. Click here for a quick video of the walk.
Balloon Glow festivities begin at 5 p.m. on Friday, with closing fireworks scheduled 9:15 p.m. The Great Forest Park Balloon Race begins at 1 p.m. on Saturday, with the balloons launching at around 4:45 p.m., depending on the weather conditions. For more information and schedules for both events, visit greatforestparkballoonrace.com.
You can use the Transit app to conveniently plan your trip to the Great Forest Park Balloon Race and Glow and purchase a $5 Day Pass in advance to enjoy unlimited rides on MetroLink and MetroBus for the entire day. Have questions? Contact Metro Transit Information at 314.231.2345 (phone) or 314.207.9786 (text), Monday through Friday from 7 a.m. to 6 p.m.
Return to Blog