February 9, 2023
Take Metro Transit Sunday to Enjoy Super Bowl Watch Parties 
Return to Blog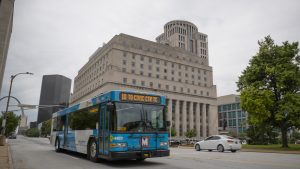 The Super Bowl is this Sunday and some of you may be hosting family and friends. Others will drive to a party or a restaurant or bar to watch the big game, and if alcoholic beverages are involved, please be responsible. Don't drink and drive. Metro Transit is here to get your there. We are a great transportation option Sunday, especially if your destination is located near the MetroLink Red or Blue Line. You can leave your car at home and enjoy all the Super Bowl fun. You won't have to worry about driving home after the game.
It's easy to plan your Super Bowl Sunday trip on public transit. You can use the Transit App or our online Trip Planner. If you would rather talk to one of our Metro Transit Information team members to figure out your options, you can call until 6 p.m. tonight or call tomorrow from 7 a.m. until 6 p.m. at 314-231-2345. Texting 314-207-9786 is an option also.
A MetroLink ticket is $2.50 and you can purchase it on your phone through the Transit App (2 MetroLink one ride tickets—one to get there and one to ride home) or buy a One Pay Pass for $5 on your phone. MetroBus fare is $1 a ride or $3 for a 2 Hour Pass to transfer between MetroBus and MetroLink. All MetroBus fare boxes accept cash or coins.
All in all, taking Metro Transit during Super Bowl weekend is a convenient way to safely get around the area.
Here's a list of local events that are easily connected to Metro Transit routes:
Return to Blog
Categories:
Metro Lifestyle