February 3, 2023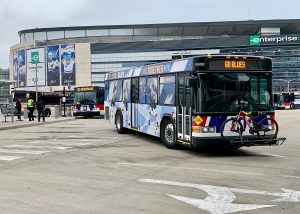 February is in full throttle and we are showing you exactly where to spread the love using Metro Transit this month! Check out the local events happening and start planning your trip with MetroLink or MetroBus.
Note that some MetroBus routes will be detoured during special events due to street closures. Don't worry, we'll get you as close to your destination as possible.
St. Louis Blues Games – Various Dates in February
Take Metro Transit to the Enterprise Center to cheer on the St. Louis Blues as they get through their season! Click here to view this month's game schedule. The Civic Center Transit Center sits directly across the street from the Enterprise Center, making MetroLink and these MetroBus routes great options for getting to the game: #4 Natural Bridge, #10 Gravois-Lindell, #11 Chippewa, #19 St. Louis Ave., #30 Arsenal, #31 Chouteau, #32 Dr. ML King, #40 North Broadway, #41 Lee, #73 Carondelet, #74 Florissant, #94 Page, #97 Delmar.
---
Super Bowl LVII Watch Parties – February 12
Want to take your Super Bowl game-day experience to new levels? Catch the action and cheer on your favorite team at a local watch party. Watch the game and grab a drink at Bud Light Super Bowl LVII Watch Party at Ballpark Village using the Stadium MetroLink Station
Or you can enjoy the Super Bowl at Blue Dine & Lounge on Delmar. Take MetroLink to the Delmar Loop Station or use the #97 Delmar MetroBus to grab your seat and watch the game.
---
Mardi Gras Festivities – Various Dates in February
Metro will not be operating a special Mardi Gras shuttle this year, but there are several transit options available to help you enjoy all the fun and festivities. Start your Mardi Gras celebration with the Taste of Soulard. A self-guided tasting and pub crawl that allows you to choose your own adventure through the many Cajun flavors found throughout Soulard happening February 11 and 12. The party really kicks in gear with the Bud Light Grand Parade on Saturday, February 18, starting at 11 a.m.
Take MetroLink to the Stadium MetroLink Station, which is just a short walk away from the action. MetroBus is another great way to enjoy the celebration, with the #10 Gravois-Lindell, #30 Arsenal and #73 Carondelet MetroBus routes serving stops near Soulard. Please note that these routes may be operating on a reroute due to the Mardi Gras Grand Parade and festivities – check our online Rider Alerts before you head out.
---
Music and Concerts – Various Dates in February
Get to all the local music events this month using Metro Transit. Here's a list of artists and musicals you'll see in St. Louis this month:
---
Other Local Adventures
Other fun events you and the family may enjoy this month include:
---
Plan your Trip Ahead
To plan your trip to any of these great local events, use our online Trip Planner or download the Transit App to plan your trip and pay your fare, or contact Metro Transit Information Desk at 314.231.2345 (phone) or 314.207.9786 (text), available 7 a.m. to 6 p.m., Monday through Friday.
Return to Blog
Categories:
Metro Lifestyle