March 17, 2021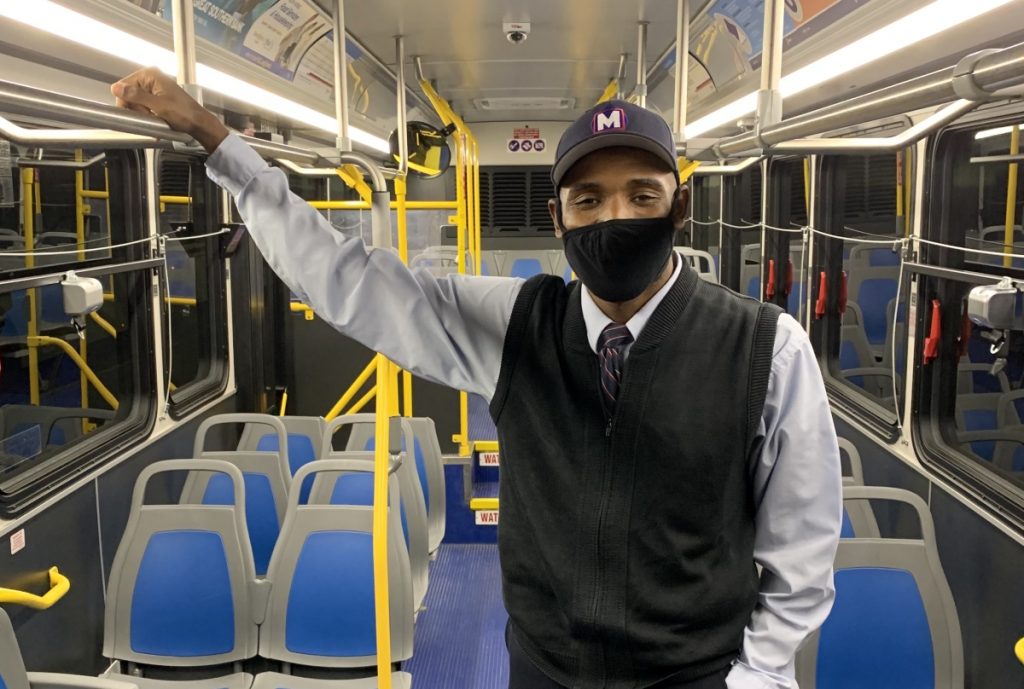 E'Quain is one of the many friendly faces you'll see in the driver's seat on MetroBus. He has been part of the Metro Transit team for only a year and a half, but he's been passionate about public transit his entire life. In fact, his mom reminded him that even when he was 5 years old, he said he wanted to be a bus driver!
"My purpose in life is to help other people, and being a bus operator gives me an opportunity to do that."
E'Quain is originally from Augusta, Georgia, and when he first moved here, he relied on MetroBus and MetroLink to help him figure out where everything was and explore the city. He understands how important Metro is to our community and the responsibility he has to help people get where they need to go – safely, comfortably and on time.
"Metro is St. Louis. We are as much embedded in the fabric of this community and this region as Red Hot Riplets, Vess soda and Imo's Pizza."
You can typically find him driving the #70 Grand and #73 Carondelet, but E'Quain is also proud to say he knows almost all of the routes in Missouri and two in Illinois. You may also see him sitting next to you on your commute, as he still rides MetroBus and MetroLink to get around town and explore, because he knows how convenient it is.
When he isn't working, he loves being able to go home to Georgia as much as possible to spend time with his 8-year-old niece. He also enjoys going to Forest Park any chance he gets. On a nice day, you can find him there sitting in a chair and listening to a podcast or reading a book while soaking in the outdoors!
Check out our Q&A with E'Quain below to learn even more.
---
What was your first job?
My first job was working at the concession stands for The Masters. It was the 2007 tournament and it was the coldest tournament we have had on record. Our industrial coffee makers could not keep up with the demand! But it was a very fun time. I get to say I have been to The Masters on Championship Sunday.
What is your favorite route to drive?
One of my favorite routes to operate is the #73 Carondelet — it may have something to do with the fact that it goes to the mall, and the bus I always took as a kid in Georgia was the one that went to the mall. So, it kind of reminds me of home. I also know I am going to get a wide collection of people on my route. We all know someone who needs to get to the mall. And it is just a fun route to drive.
What are 3 words to describe Metro?
Available — we never close no matter what the situation is. We are one of the few enterprises within the area that are open 24/7. There is always someone here. No matter what the weather conditions are, we are running.
Necessary — we move the region. We really do provide a necessary service for the region. Getting people to work, to school, to doctor's appointments, to the grocery store. Even for people just wanting to be tourists, we provide that service as well to explore.
Essential — if we are not here, people can't get to where they need to go.
What energizes you at work?
Being able to help people is what energizes me, it keeps me coming back. Driving also allows me to see other parts of the city that I may not usually see.
Do you have advice or tips for someone who is new to riding Metro?
Download the Transit app, visit metrostlouis.org often, and call customer service if you need help. Also, always get to your stop 5 minutes early. And when waiting for your bus, make sure to stand still and away from the curb when your bus is pulling up to your stop so we can safely serve you.
---
Our operators have some of the most helpful tips! You can learn more about the Transit app here: metrostlouis.org/transit-toolbox. For help with planning your trip on Metro Transit, you can contact our Transit Information Experts by phone at 314.231.2345 or text at 314.207.9786, Monday through Friday, 7 a.m. to 6 p.m.
Our team members work hard to keep our region moving every single day. From operators to customer service, maintenance to mechanics, and operations to public safety, we bring the best of the best together to bring progress, collaboration and innovation to our communities. When you're out riding with us, make sure to pause and thank our team members for what they do. We could not move the region without them. Thank you, E'Quain!
Return to Blog
Categories:
Metro Lifestyle
,
Team Metro