September 30, 2020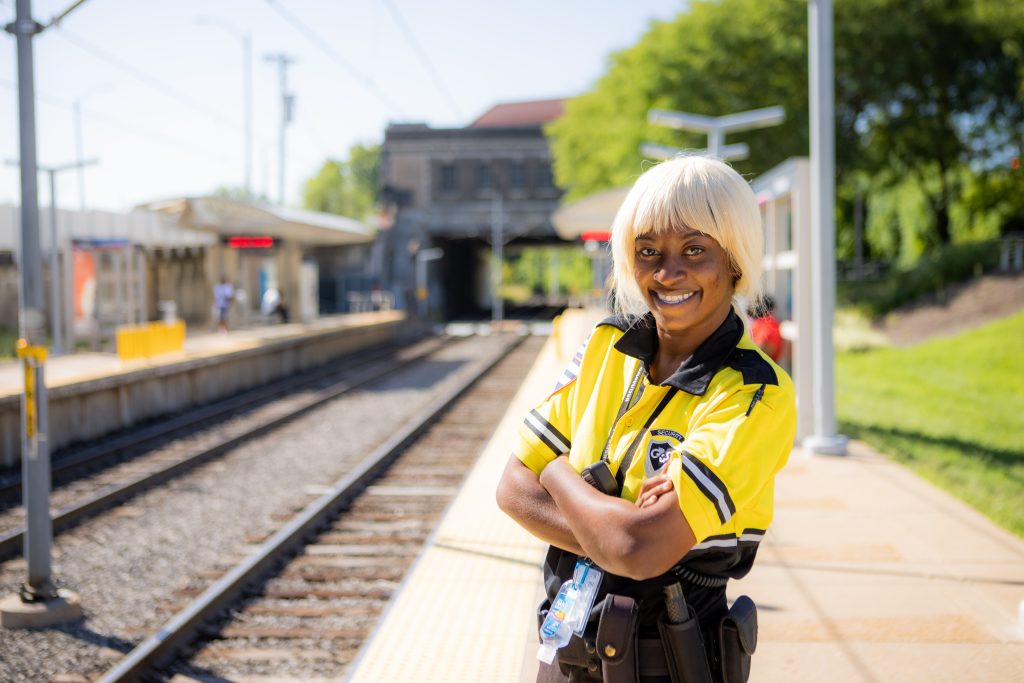 Our team members work hard to keep our region moving every single day. From operators to customer service, maintenance to mechanics, and operations to public safety, we bring the best of the best together to bring progress, collaboration and innovation to our communities. We want to share their stories, so stay tuned for more team member spotlights.
Erica is a member of our public safety team. She joined Metro Transit earlier this year, and you can find her friendly face throughout the transit system as she helps our riders have a safe and comfortable ride.
Erica patrols our Metro Transit Centers and MetroLink stations and platforms. She also rides the train and monitors the system to ensure everyone is following our code of conduct, and helps passengers who may need additional assistance.
"When people see me, they see me as the go-to person, someone that can be helpful and that they can rely on."
Even though she is one of our newer team members, she's no stranger to Metro. She has been riding transit since she was young. With that experience, she's able to see the difference in our approach to security and the positive impact it is having on our customers. "When I get on a train and people see me, they tell me how they feel safe and how visible we are. A lot of people feel comfortable, secure and safe when they see a yellow shirt. And the train and bus operators love us."
You can learn more about our security efforts here: metrostlouis.org/safety-and-security
When she is not helping our passengers, she likes to relax at home or take her 2-year-old son to the Saint Louis Zoo, Six Flags, the St. Louis Aquarium, or to get ice cream. She is also looking forward to one day taking him on MetroLink to show off the trains.
Check out our Q&A with Erica below to get to know her more.
---
What was your first job?
My first job was pretty fun – I worked at Six Flags as a ride operator. It was fun to be a teenager and learn to get your own money and have independence. And you would get to ride the rides for free.
What energizes you at work?
What energizes me is seeing the young kids wave at me on the train, or when I see people that I have previously helped. And it energizes me to help people get to where they need to get to.
What do you like most about the bi-state region?
Besides all the attractions, this is the first place I started working. I know a lot of people around here.
What is a secret talent you have?
I know how to cook – I think I am a chef. I have a lot of things I like to make and try a lot of new recipes. And I create themed nights for my nieces and nephews to introduce them to other types of food.
Do you have advice or tips for someone who is new to riding Metro?
Always have your fare and your face mask, keep your social distance, and if you see something, say something.
Our Public Safety team is available 24/7 to address your concerns – text 314.300.0188 or call 314.289.6873.
---
When you're out riding with us, make sure to pause and thank our team members for what they do. We could not move the region without them. Thank you, Erica!
Return to Blog
Categories:
Metro Lifestyle
,
Team Metro