December 9, 2020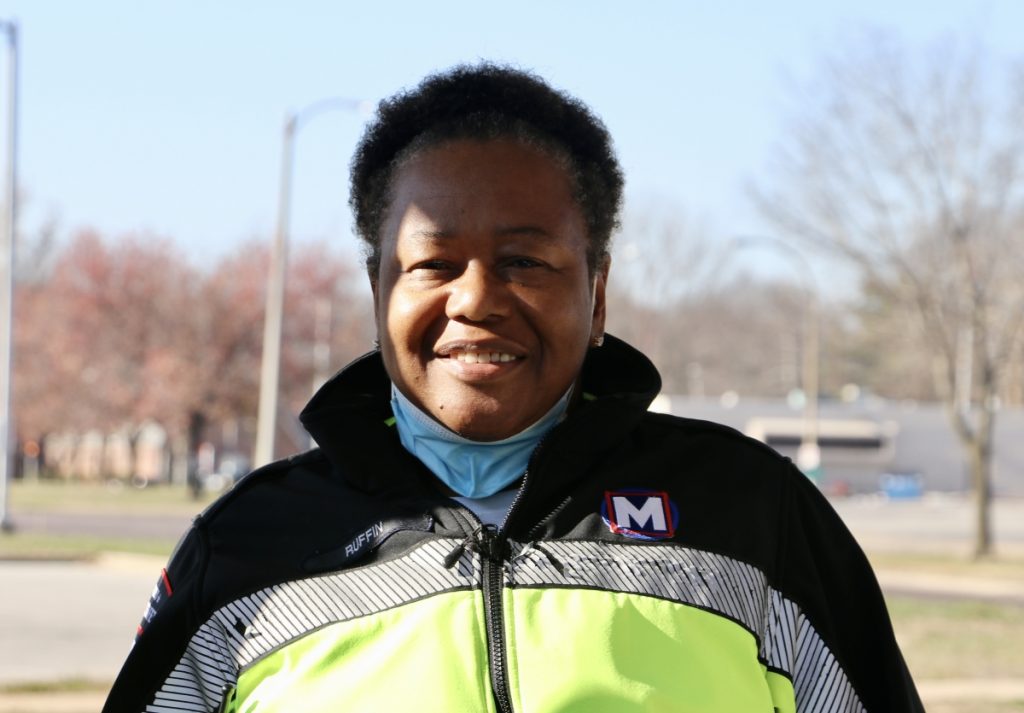 Our team members work hard to keep our region moving every single day. From operators to customer service, maintenance to mechanics, and operations to public safety, we bring the best of the best together to bring progress, collaboration and innovation to our communities. We want to share their stories, so stay tuned for more team member spotlights.
Kathy has been working for Metro Transit for 13 years, and is an important member of our Public Safety team. She serves as a Transit Security Specialist (TSS), meaning she is on the system every day with you to make sure you have a safe, comfortable and convenient ride.
"I want people to know that Metro is safe to use. You can get from point A to point B. And our team members will work with you if you have any questions about how to get around – we are here to help."
You can find Kathy on the trains, on buses and at transit centers, assisting passengers, answering their questions, checking for fare, and ensuring that rules are being followed on Metro Transit. She often meets people who are new to St. Louis or are not regular riders, so she makes sure they get to where they need to go, quickly and easily.
Kathy views our system as a valued resource with great on-time performance. And she knows that our people work as a team to get our riders to their destinations and solve any issues that come up.
She remembers one time when that teamwork became critical – a young boy hopped on the wrong train, leaving his family behind at the Grand Station. Kathy jumped into action, contacting her teammate at the next station to coordinate quickly and safely bringing him back to his parents.
It is not just the teamwork that energizes Kathy, but all the people she gets to meet.
"You meet people from all over. I have met people from overseas or from out of town. You have students, people on vacation, people from all walks of life. You meet a lot of veterans, and people who need your assistance getting from point A to point B. I enjoy that very much. No two days are alike."
Kathy is a regular rider of Metro Transit – taking both MetroBus and MetroLink to get to healthcare appointments, to Forest Park, and other places around the city. She grew up riding the bus and she appreciates how convenient it is to get around.
Prior to coming to Metro Transit, Kathy worked as a Court Security Officer for the United States Marshall Service and as a police officer for the City of St. Louis.
When she is not working hard to keep our system safe, Kathy spends time reading and learning about history. She is passionate about local history and hopes to one day write a book about it.
Check out our Q&A with Kathy below to get to know her more.
---
What was your first job?
My very first job was as a teller at Community Federal Savings & Loans.
What energizes you at work?
The people. When the Cardinals or the Blues are in the playoffs, people are on the trains and excited – and you can't help but get caught up in the enthusiasm. We are the frontline workers for St. Louis hospitality and getting people to their destinations, and that excites me.
What do you like most about the bi-state region?
There's a lot to explore in St. Louis – the art museum, the history museum. There are places that have so much history and you can go and see them – you can connect the present to the past.
What's a fun fact people may not know about you?
I am the history lady – I can tell you little known facts about the city. I am the local history guru.
Do you have advice or tips for someone who is new to riding Metro?
My best tip is for you to get the Transit app. With the app you can purchase your ticket and it will show you how to get from point A to point B.
We love the Transit app! You can learn more about planning your trip, tracking your ride, and paying for your fare with Transit here: metrostlouis.org/transit-toolbox
---
When you're out riding with us, make sure to pause and thank our team members for what they do. We could not move the region without them. Thank you, Kathy!
Return to Blog
Categories:
Metro Lifestyle
,
Safety
,
Team Metro