December 2, 2020
Welcome to the Metro Transit Community, Captain Melissa Webb
Return to Blog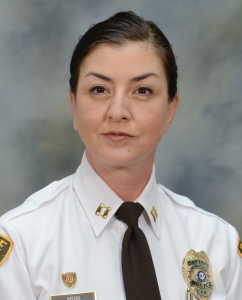 You may notice a new face smiling back at you the next time you are on MetroLink. The friendly face belongs to Captain Melissa Webb, and she wants to make sure the Metro Transit system continues to be a safe and friendly mobile community for you.
Capt. Webb from the St. Louis County Police Department is new to the Metro Transit community and is excited to have been appointed as the new commander for the Bureau of Transit Police or Joint Task Force as it's also called, which includes officers from the St. Louis County Police Department, St. Louis Metropolitan Police Department and St. Clair County Sheriff's Department who work with the Metro Transit Public Safety team to coordinate patrols on the region's public transit system.
She hit the ground running in her new role, working with key stakeholders to review procedures, increasing cooperation between her department and our Metro Transit Public Safety team, implementing new training with the Metro team, and broadening communication efforts between all of our partners.
"I think it's imperative that we bring back that 'we are one team' mentality. We have to look at MetroLink as a community. And everyone is part of this community, whether you are a rider, a MetroLink public safety staff and operator, the G4S folks (contracted security guards), or the task force. That's how we have to look at it."
Capt. Webb most recently served as the Commander of the Affton Southwest Precinct, and her experiences with neighborhood policing during that time taught her the importance of community and engaging the people you serve and work with.
"We all understood that we all had to be part of the solution and make our community safe and well-rounded, and then I instilled that in my officers," Capt. Webb said. "It was like you're not an officer who works here. You're part of this community. And it would be nice to see that happen here at MetroLink, because we have to look at MetroLink as a community."
Part of that engagement requires being active on the transit system, and Capt. Webb has been interacting with riders at transit centers, visiting community centers, and organizing future outreach events. She is out on the system as much as possible to regularly engage with riders and team members.
Positive customer engagement is critical to accomplish one of Capt. Webb's goals: strengthening confidence in safety and security of the Metro Transit system. She wants you to see and know that officers from the Joint Task Force are here and that together we are all part of one community. And, that starts by listening to riders and partners.
"I think that listening to the community is imperative. Because they have a different view. They see things differently. And it's imperative that we sit down, and we have those conversations. Because it's just going to bring about better change and understanding."
These principles were instilled in Capt. Webb even before her career in law enforcement. Growing up, she saw firsthand how important it is to be a part of positive change in the community. Her parents ran a business in the city, and she watched her dad take care of people who couldn't afford to pay for things, and she saw her mother giving food to people who needed it.
"I like to live my life by compassion – giving it is free, but it's so rewarding when it comes back. And I try to instill that in my team."
She's particularly passionate about supporting veterans and thankful for the support of H.E.R.O.E.S. Care, a program that provides support for members of all branches of the military and their families.
"H.E.R.O.E.S. Care supplies us with book bags full of care products for our veterans and for our homeless. We're working on getting those out, and I'm also looking forward to setting up another outreach event that we're going to do with our vets. I could talk for hours about all the amazing things that H.E.R.O.E.S. Care is doing for us."
Capt. Webb joined the St. Louis County Police Department in 1995, and has served in the Bureau of Crimes Against Property, Bureau of Crimes Against Persons, Bureau of Communications, West County Precinct, Affton Southwest Precinct, and the South County Precinct.
"I think that my entire 25 years and everything that I've experienced has led me to this position. I'm bringing every bit of that experience here to make this the best collaborative effort that we can, to make ridership and safety increase, and to continue to do more community outreach and build that community on the foundation that Mr. Roach and the Metro team has already started."
Outside of her work, Captain Webb enjoys doing yoga and riding her Harley Davidson motorcycle. She and her husband love to travel, and have a son who just recently graduated college.
Please join us in welcoming Capt. Webb to the transit security team! To learn more about our safety and security efforts, click here for more information or contact Metro Public Safety at [email protected] or at one of the numbers below.
---
See Something? Say Something.
Text 314-300-0188 | Call 314-289-6873
Metro Public Safety is available 24/7 to address any of your concerns
Return to Blog
Categories:
Safety
,
Team Metro