September 29, 2021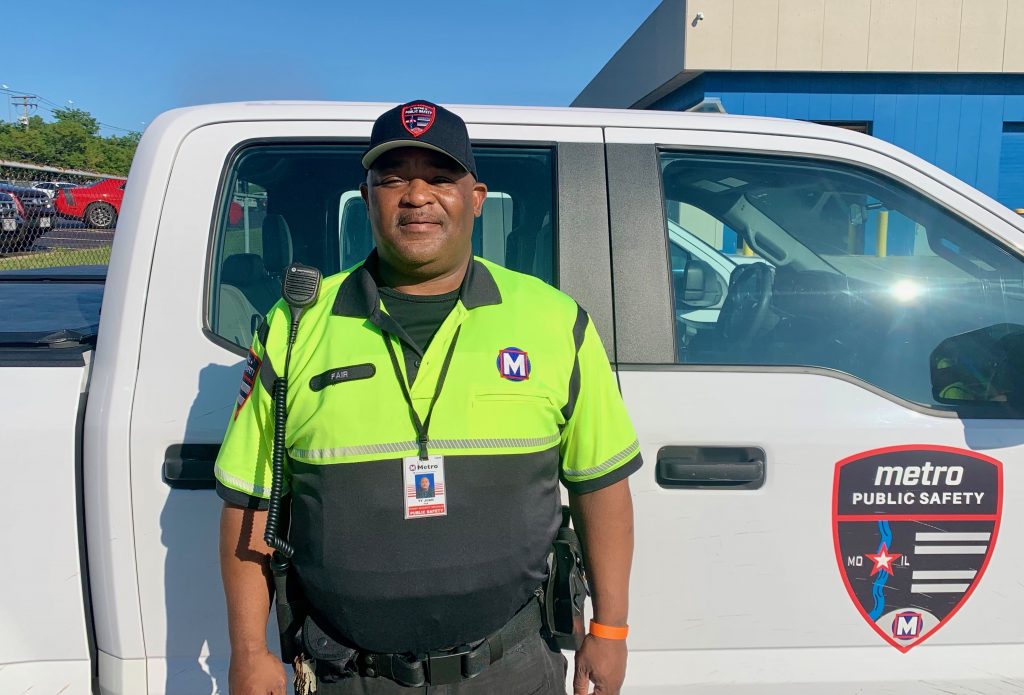 Tyjuan "T.J." Fair, one of our Transit Security Specialists, is a hero. A few weeks ago, he saved someone's life. But, T.J. has a different point of view.
"I'm not a hero. I was just doing my job."
As a Transit Security Specialist (TSS), T.J. patrols the Metro Transit system, assists our security team and law enforcement partners, and responds to calls. And it was one of these calls where T.J. stepped up to save someone in trouble.
T.J. responded to a call about an unresponsive passenger on a MetroLink train at the Forsyth MetroLink Station in Clayton, Mo. Upon arrival, he found an unresponsive man and gave him several sternum rubs, but unfortunately that wasn't enough to wake him. After receiving no response from his efforts, T.J. went back to his truck and grabbed his newly issued NARCAN kit.
"I've been with Metro for 14 years, so I knew what I needed to do," T.J. said.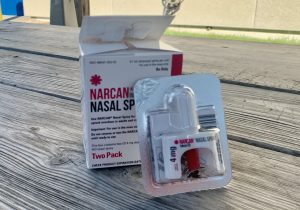 Just a couple weeks prior to this call, the Metro Public Safety team completed its first NARCAN training. NARCAN, or naloxone, is a nasal spray used for the emergency treatment of known or suspected opioid overdoses. Many first responders carry NARCAN, and it can even be purchased at most pharmacies due to the opioid epidemic that has gripped the nation since the late 1990s. These potentially fatal overdoses can be caused by both prescription opioids and illicit opioids like heroin and fentanyl.
"Our Public Safety Team is on the front line, patrolling MetroLink stations, trains and Metro Transit Centers throughout the bi-state region. We run into all types of situations, and unfortunately, we've seen our fair share of opioid overdoses," said Tony Smoote, Metro Transit Security Field Supervisor. "We recently completed NARCAN training for our team and equipped all of our TSS's with kits, because we know this is an important resource in situations where time is of the essence. Waiting a few minutes for EMS could mean someone's life."
Not only was NARCAN new to our Public Safety team, this was the first time T.J. had ever used NARCAN to revive someone.
"I was nervous, and I second guessed whether to do it. But my instinct kicked in. I couldn't let that man pass in front of me, and I knew I had the kit that could save him," T.J. said.
After using the spray, the unresponsive passenger woke up a couple minutes later. University City Police had arrived at the scene near the same time, and transported the man to the hospital.
"It was just part of my job. He wouldn't have made it, so I had to step in and save someone's life."
Thank you, T.J., for the dedication, instinct and selflessness that keeps everyone on the Metro Transit system safe. You are our hero! Get to know a little more about our Metro hero in the Q&A below.
---
What was your first job out of high school?
My first job was a dietary aide. But I've been in security since 1998. I got comfortable and stuck with it.
What is your normal day at work like?
Every day is different here. Every 30 days we switch zones. I patrol, respond to calls and ride the trains with our G4S guards. They love when I come around!
How do you like interacting with transit riders?
Our customers are very nice. They are just regular people that have been riding for a while, and we almost never have any issues. But, when you see someone that is frustrated, sometimes you just have to talk to them and give them a chance to get it out. Then the next day, they'll probably apologize and be your friend.
What do you like to when you're not working?
I like to hang around my family and friends from work. I like to travel too. I'm going to Vegas at the end of the month.
Where did you go to high school?
Cleveland NJROTC Academy here in St. Louis. The original military school!
---
Our team members work hard to keep our region moving every single day. From operators to customer service, maintenance to mechanics, and operations to public safety, we bring the best of the best together to bring progress, collaboration and innovation to our communities. 
We're excited to add more people like Tyjuan to our Metro Transit team. If you enjoy serving the community and helping people comes naturally to you, click here to apply for one of our open positions.
Return to Blog
Categories:
Safety
,
Team Metro