September 22, 2021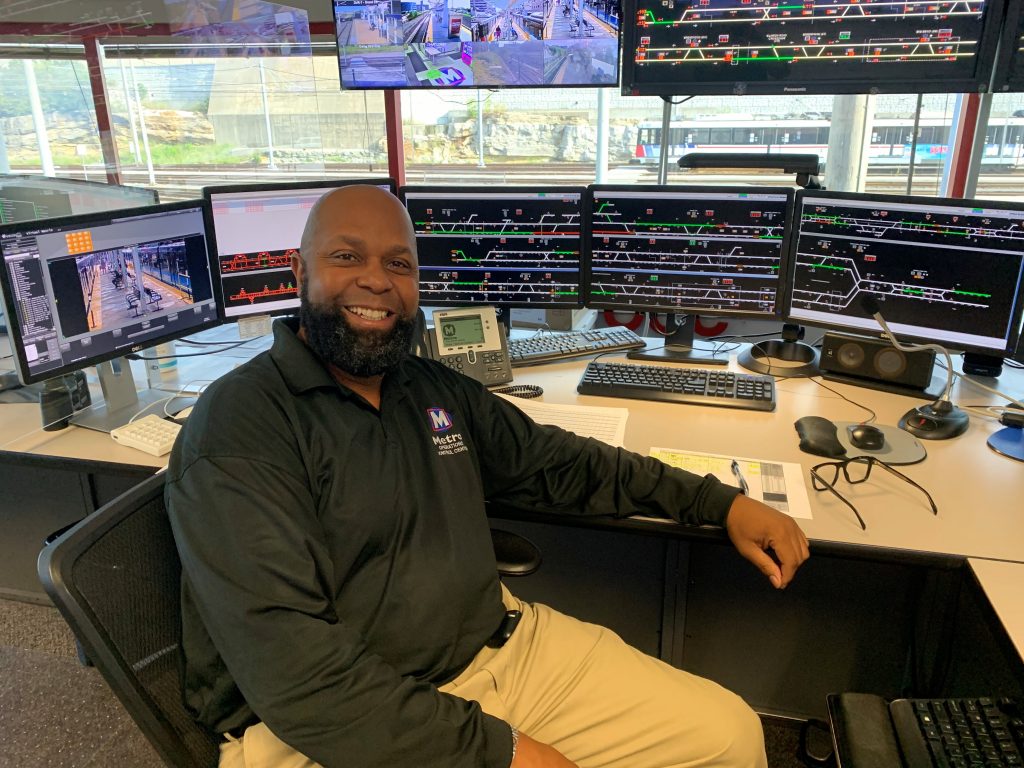 Lamont has been with Metro Transit for 20 years, but his face is not one you would normally see during your daily commute. Instead, you can usually find Lamont working behind the scenes in the MetroLink Control Center. As an Assistant Superintendent of MetroLink Operations, he helps lead the team that is responsible for monitoring and managing the movement of all of the region's MetroLink light rail trains – safely and efficiently.
"Safety is our top priority," Lamont said. "We are in constant communication with our MetroLink operators, our maintenance team, our transit service managers, Metro Public Safety and others to ensure we keep our trains running smoothly, safely and on schedule."
Managing the entire MetroLink system requires coordination and precision. On a typical weekday, the team supports about 300 train trips across 46 miles of rail in Missouri and Illinois, carefully moving trains in and out of the yards and to all 38 MetroLink stations, all while maintaining industry leading on-time performance. Throw in inclement weather, rail maintenance or an unexpected issue, and it can become even more complicated.
"There are always surprises, but that's why it's important to be prepared," Lamont said. "One thing we focus on is ensuring our team is ready when an emergency or something unexpected occurs. It's a key part of how we train all of our MetroLink controllers."
Technology plays a big role in maintaining safe and efficient train operations. From the MetroLink Control Center, the team can talk directly with Metro Public Safety and can access all of the security cameras located at all MetroLink stations and Metro Transit Centers to monitor platforms and operations. Lamont and his team also use a SCADA (Supervisory Control and Data Acquisition) system to monitor train operations and locations in real-time. The SCADA system ensures that trains are always a safe distance apart, and are not able to occupy the same section of track at the same time.
"The system we have developed uses all of our resources, personnel and technology to keep our light rail operations safe," Lamont said. "The number one tip I have for our riders to stay safe is – stay alert. Our trains are quiet, and can be moving in any direction, at any time, on any track. It's important to stay alert throughout your entire commute."
This tip is a great reminder on how you can stay safe while near the tracks and waiting for your train. This week is Rail Safety Week, and the Metro Transit team is helping to raise awareness and provide rail safety education so that together, we can stop track tragedies.
Check out our Q&A below to learn a little more about Lamont.
---
What was your first job out of high school?
I joined the U.S. Army, at Fort Jackson in South Carolina. I served for five years, and then another six years in the Reserves after that.
What do you like to do for fun?
My children's activities take up most of my time now, from tee ball, baseball and basketball. Motorcycling was my hobby before my children, but now it's camping, fishing, hunting, archery and horseback riding.
Who do you root for?
The Dallas Cowboys and L.A. Lakers.
What do you have on your bucket list?
I want to ride my motorcycle on the California coast, go bear hunting in Manitoba, and going out west to see Devils Tower, the Black Hills, Grand Canyon and Chief Crazy Horse Mountain.
Where did you go to high school?
Cahokia Senior High, home of the Comanches!
---
Our team members work hard to keep our region moving every single day. From operators to customer service, maintenance to mechanics, and operations to public safety, we bring the best of the best together to bring progress, collaboration and innovation to our communities. 
We're excited to add more people like Lamont to our Metro Transit team. If you enjoy serving the community and helping people comes naturally to you, click here to apply for one of our open positions.
Return to Blog
Categories:
Team Metro