Have a media request? Contact the Metro Communications Department at 314-486-5553.
December 23, 2019
Central West End MetroLink Station Elevator to Close December 26
Shuttle available during construction to assist passengers
The elevator at the Central West End MetroLink Station will be closed for several months beginning on Thursday, December 26, to accommodate demolition crews and reconstruction of the elevator during a station improvement project which includes new features and amenities to improve service and safety. The platform at Metro Transit's busiest MetroLink station will remain open during construction.
MetroLink riders will be able to get to or exit the Central West End MetroLink Station platform from an accessible walkway, located at the east end of the platform, which connects to the MetroBus Transit Center. A shuttle van will be available to transport passengers with mobility or medical issues who are unable to navigate the stairs. The shuttle will operate between a stop west of the intersection of Children's Place and South Taylor Avenue and a stop just north the station's western platform entrance. Signs and information will be installed at the station to help customers access the shuttle.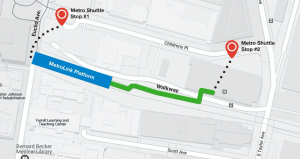 Throughout the project, temporary modifications and closures will be made to the station entrances/exits to enable MetroLink riders to safely access the MetroLink platform. Advance notice will be provided for MetroLink riders if temporary platform closures or service interruptions are required.
This construction project will bring $7.5 million in enhancements to the Central West End Station, funded by Washington University School of Medicine and BJC Healthcare, in partnership with Metro Transit.
Station Redesign Details:
New, monitored entrance/exit at the street level from Euclid Avenue on the west end of the station featuring a welcome center at the top of the stairs that lead down to the MetroLink platform
A new, wider staircase with a center handrail connecting the new Euclid Avenue entrance/exit to the platform to better accommodate passengers
Relocating the elevator on the station platform to relieve congestion
New, upgraded platform lighting
An expanded canopy to cover 70% of the MetroLink platform. The current canopy covers 30% of the MetroLink platform.
Safety improvements including a speed bump, stop sign, and new lighting at the entry to the MetroBus area of the garage which connects to the east entrance/exit of the platform. 
About Metro Transit
Metro Transit operates the St. Louis region's public transportation system which includes 400 clean-burning diesel buses that serve 77 MetroBus routes in eastern Missouri and southwestern Illinois. Metro also operates MetroLink light rail vehicles on 46 miles of track serving 38 stations in the two-state area, and operates Metro Call‑A‑Ride, a paratransit fleet of 122 vans. Metro Transit is a Bi-State Development enterprise.