St. Louis has a wealth of treasures to enjoy right here in town. For out-of-towners, welcome to the area. And for residents, it is time to become a tourist at home. It begins with a $5 unlimited Metro Day Pass — and ends almost anywhere you want to be. Where will your explorations take you? Here are a few ideas from Metro Transit.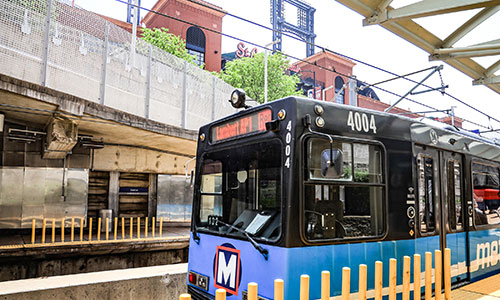 Downtown St. Louis, Downtown West and the St. Louis Riverfront
Downtown St. Louis has plenty to offer from the Gateway Arch to Union Station. Visit a national park, Busch Stadium and Enterprise Center, or ride the St. Louis Wheel at Union Station, all while being within walking distance of some of the city's most exciting bars and restaurants.
Soulard and Lafayette Square
The iconic Soulard neighborhood and Lafayette Square will make you feel like you're walking through New Orleans. The architecture resembles the French Quarter and Garden District while the bar scene is Bourbon Street-esque. Cajun flavors can be found at restaurants throughout these neighborhoods but there are also a few St. Louis institutions. After admiring the architecture, enjoying the food and drink offered by the neighborhood you can visit the Soulard Farmers Market or learn about history that has been brewing in St. Louis since 1852 at Anheuser-Busch.
Midtown, Shaw and South Grand
The center of St. Louis entertainment can be found on North Grand in Midtown, with the Fabulous Fox Theatre and St. Louis Symphony Orchestra anchoring this area surrounded by Saint Louis University. A cultural and culinary center of St. Louis can be found in the South Grand Dining District, which is just steps away from Tower Grove Park. Use one of Metro's new electric buses on the #70 Grand to explore South Grand. Shaw is sleepy neighborhood on the north side of Tower Grove Park and is also home to the Missouri Botanical Garden.
Delmar Loop
As a neighborhood that merges the relaxed feel of a college town and the hustle of a big city, the Delmar Loop has plenty to offer. It's home to legendary hangout Blueberry Hill, record stores, vintage clothing shops, must-see music venues The Pageant and Delmar Hall, the "unique boutique" Moonrise Hotel and more.
Hop on a MetroLink train to the Delmar Loop Transit Center, or any of these MetroBus routes: #2 Red, #16 City Limits, #91 Olive, #97 Delmar
Named the Best City Park of 2022, Forest Park has plenty to offer including the Saint Louis Art Museum, Science Center, the Missouri History Museum, The MUNY, and the always-free Saint Louis Zoo. Forest Park is bordered by neighbors like the Central West End, Dogtown and Skinker-DeBaliviere that offer countless options for dining and drinks. See what Forest Park has to offer on the list below along with what transit centers and MetroBus routes provide access:
Saint Louis County
Out past city limits, there is still plenty to do in St. Louis County including parks, recreational complexes, and other attractions.
Metro East
If Downtown St. Louis isn't your speed, maybe Downtown Belleville is. Take a step back and explore what Metro East has to offer from food and drinks to shopping and entertainment there is plenty to do.
Use the Transit app to Plan Your Trip
To plan your trip and pay your fare, download the Transit app! For only $5, you can get a Metro Day Pass with unlimited rides on MetroBus and MetroLink.


Have trip planning question? Contact Metro Transit Information at 314.231.2345 (phone) or 314.207.9786 (text), available 7 a.m. to 6 p.m., Monday through Friday.