November 12, 2021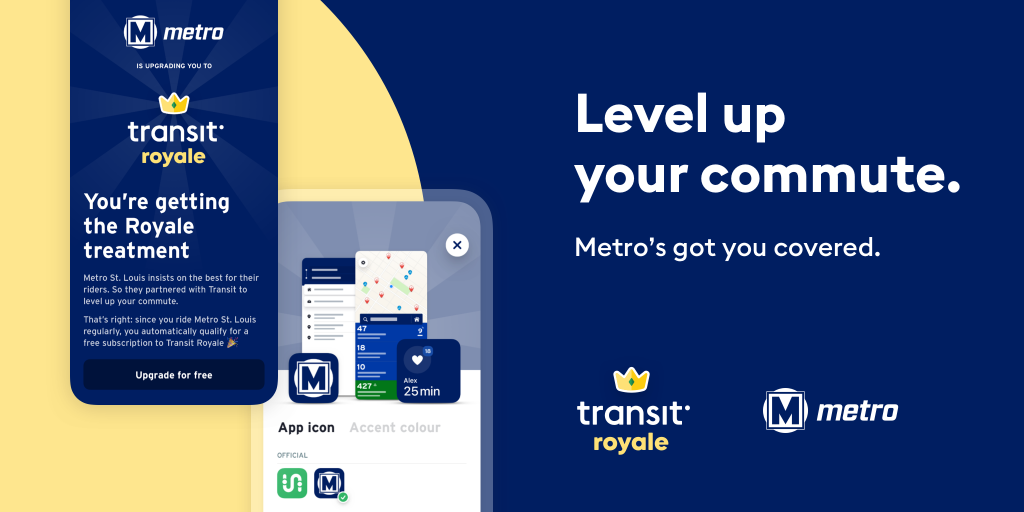 Planning your trip, tracking your ride, and paying your fare is getting the Royale treatment!
Metro Transit is starting our holiday gifting early this year, giving all riders free access to the Transit app's new subscription service, Transit Royale.
In addition to important features like checking the status of your MetroBus, trip planning, accessing offline transit schedules and directions, and receiving rider alert notifications straight to your phone, this new service unlocks additional, premium features.
These exciting new features include new customization options, including special app themes and icons, as well as a custom avatar and nickname that appear on the leaderboard for GO, Transit's popular crowdsourcing feature, and complete access to the app across the more than 300 cities supported worldwide.
In addition, some previous capabilities, like looking up departure times far into the future or browsing lines farther away, will be exclusive to Transit Royale.
As the update rolls out, you will see a screen informing you that we have upgraded you to Transit Royale. From there, simply tap to redeem your free subscription.
Transit has been an important resource for riders and team members since our partnership started in 2019. In June 2020, we launched mobile fares through Transit. Offering contactless tickets and fares was an important step to help our riders get where they need to go.
We also recently integrated Via Metro STL service into the Transit app, making it easy for you to combine on-demand and fixed-route service in certain zones across the region.
Return to Blog