November 17, 2021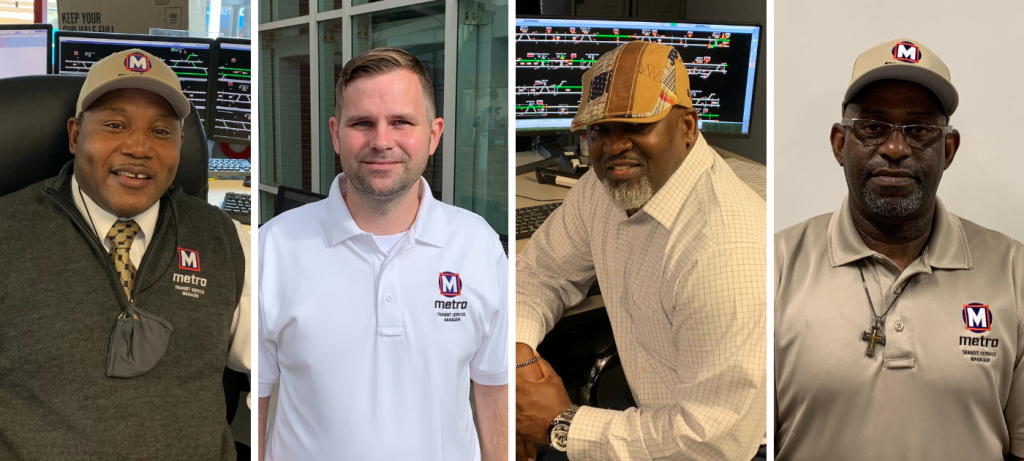 From left to right: Jared, Jordan, Leroy and Tim
We join other organizations throughout the country this month to celebrate the service and sacrifice of our veterans by highlighting four veterans we are very lucky to have as part of our Metro Transit team: Jared, Jordan, Leroy and Tim. In addition to their military service, all four have another thing in common – they are all Transit Service Managers.
Transit Service Managers play a critical role in keeping the Metro Transit system running safely and smoothly. For our MetroBus and MetroLink operators, they are an important resource to answer questions, assist with operations and quickly resolve service issues, like mapping out turning directions and instructions for unexpected detours. For our riders, Transit Service Managers can be found throughout the transit system to provide bus and train information, address concerns and complaints, and help everyone get to their destination. Our Transit Service Managers are also qualified to operate MetroBus and MetroLink vehicles, and you can often find them behind the wheel when they are needed.
Get to know our team members more in our Q&A below.
---
Jared: Transit Service Manager – Light Rail Controller
Jared joined the United States Marine Corps in 1987 and deployed to Desert Shield/Desert Storm as a Hawk Operator. He has worked at Metro Transit for 23 years.
What energizes you at work?
What keeps me going is the fact that I know our community is moving because of us. People have to get to work, people have to get to the grocery store to feed their children and they rely on Metro to do that.
What do you like about the St. Louis area?
There are a lot of things to do in the Metro area. We have everything downtown and on the Missouri side. There's even tons to do on the Illinois side of the river.
What do you like to do outside of work?
I'm a pastor in Cahokia, Illinois, so that keeps me busy outside of work.
---
Jordan: Transit Service Manager – Bus Operations
Jordan was an Aviation Boatswain Handler on the flight deck of the USS Nimitz from 2005-2009. He did did two West-Pac/Persian Gulf deployments, Operation Enduring Freedom and Operation Iraqi Freedom. This December he will celebrate working at Metro for 12 years.
What energizes you at work?
If something exciting is happening on the system or if there is a lot happening in a day. Helping people get where they need to go makes me happy.
What do you like about the St. Louis area?
It has a small town vibe so you can get to know a lot of people but has the benefit of having big sports teams in town. I also like the art and music.
What do you like to do outside of work?
I like to run, my son and I run together every day. We like to play music, I play guitar and my kids are musicians. Going to the high school football games is fun too, that's mostly it besides hanging out with my family.
---
Leroy: Transit Service Manager – Light Rail Controller
Leroy was a Petty Officer 2nd Class (YN2) and served in the United States Navy from 1990-1995. He was stationed in Washington, D.C. at the Bureau of Naval Personnel, aboard the USS Forrestal (CV 59) and the USS South Carolina (CGN 37). Leroy worked at Metro for 17 years previously, and then rejoined the team in February.
What energizes you at work?
Working with the people, we have a great team here. The job keeps me energized and interacting with everyone here. I get to come in and control the trains but we try to have a lot of fun when we can.
What do you like about the St. Louis area?
Family – I'm a mama's boy and I've realized I'm getting older so I need to spend as much time with my parents as I can. My grandkids and the rest of the family are here too so I enjoy spending time with them.
---
Tim: Transit Service Manager – Bus Operations
Tim was a Petty Officer in the U.S. Navy. He enlisted in September of 1980 and was a Communications Specialist Radioman. He made over six major deployments to the Mediterranean, Black Sea, Indian Ocean and other destinations. He held the highest security clearance of Top Secret SPECAT, and communicated with top officials both foreign and domestic. He has worked at Metro for 8 years, and started out as a MetroBus Operator.
What energizes you at work?
A passion to support and serve people, helping people move forward throughout our region is one of the things that really helps me remain motivated. I enjoy knowing that I have an integral role in providing people with transportation at a reasonable price.
What do you like about the St. Louis area?
I like St. Louis overall because it's a very diverse town and it's a sports friendly town, I'm a big sports guy so that's nice. I enjoy having all four seasons, I like the weather year around. There's always good, equal opportunities around here.
What do you like to do outside of work?
I spend a majority of my time with my family, I'm very family oriented. I have adult kids and a beautiful wife so we spend time together traveling, being active, being involved with different activities, along with our spiritual practices.
---
Our team members work hard to keep our region moving every single day. From operators to customer service, maintenance to mechanics, and operations to public safety, we bring the best of the best together to bring progress, collaboration and innovation to our communities. 
We're excited to add more people to our Metro Transit team. If you enjoy serving the community and helping people comes naturally to you, click here to apply for one of our open positions.
Return to Blog
Categories:
Team Metro