October 19, 2021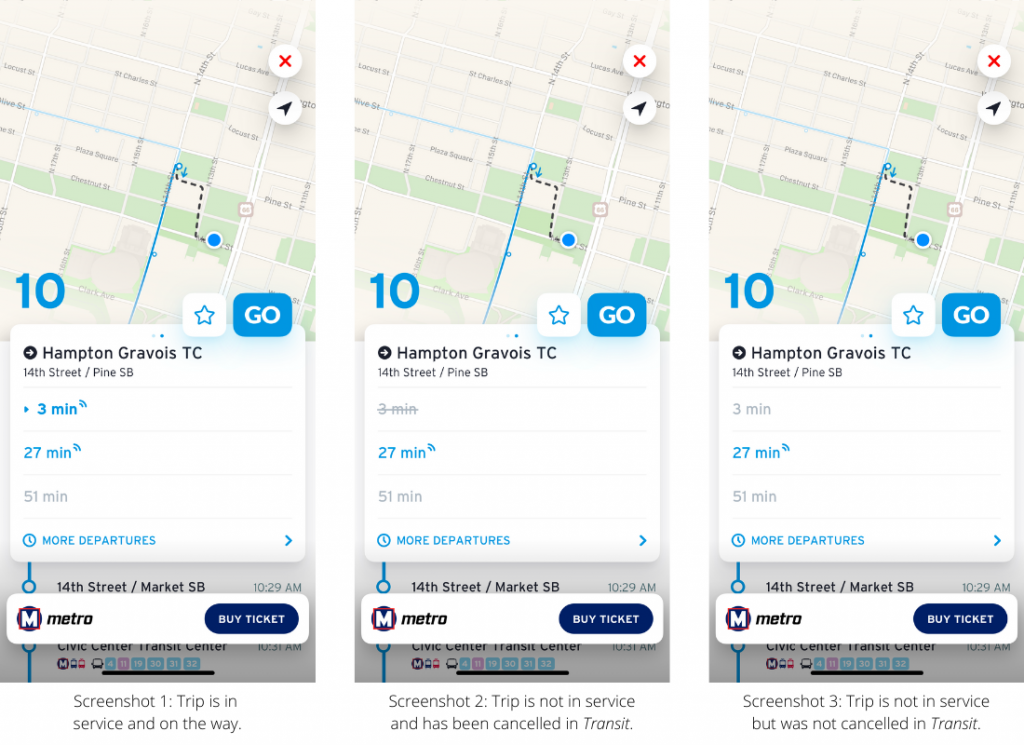 The Transit app is a great resource for planning your trip, purchasing fares and seeing the real-time arrival times for your bus. But, it can also tell you if your bus trip has been cancelled.
Due to a nationwide labor shortage, MetroBus service continues to experience delays and cancelled trips. We appreciate your patience and understanding as we work to address this challenge.
Is my bus cancelled?
Cancelled MetroBus trips will show up in the Transit app with a line through them (screenshot 2). If you see your scheduled trip on the app with a line through it, then this trip has been cancelled and the bus will not arrive at that time.
What this means for you: If you open Transit while you are at your bus stop, it will show you the real-time location of the next bus heading your way. If the next scheduled bus trip has been cancelled, that time will be crossed off.
Can my bus be cancelled, but not crossed off in Transit?
Yes. Sometimes, it is necessary to cancel a bus trip with little advance notice. Our team works hard to update Transit app as quickly as possible, but it is not always possible to have a trip crossed off in time. However, an easy way to check on your bus status in these situation is with the real-time tracking feature in Transit (screenshot 3). In this image, the next bus is supposed to arrive in 3 minutes, but the time is shown in gray and there are no real-time tracking bars – which indicates that the trip has been cancelled.
An important note: Be sure to check Transit close to your departure time to check the status of your bus. Updated information on cancelled trips is only available on Transit within 90 minutes of the scheduled departure time of your bus. 
Download Transit today from the App Store or Google Play.
Return to Blog
Categories:
Rider Alert
,
Technology