June 29, 2022

Last summer, Metro Transit's new battery electric buses hit the roads to give riders a smoother, quieter ride with the newest amenities. And in that time the buses have driven over 285,000 miles, getting you where you need to go throughout St. Louis City and County and along the #70 Grand – our highest ridership MetroBus route.
These electric buses help us fulfill our commitment to provide economically and environmentally sustainable mobility options for the St. Louis region — and a wonderful transit experience for riders. The zero-emission buses help reduce greenhouse gases by up to 160 tons per year when compared to a diesel bus.
In addition to being environmentally friendly and offering a comfortable ride, these new electric buses also provide a substantial savings in fuel and maintenance costs – up to $525,000 over the life of each bus.
Have you had a chance to ride one? Help us celebrate our one-year anniversary by sharing your favorite photos of the electric buses on social media and tag us on Facebook, Twitter and Instagram.
Fast Facts: 60-Foot Battery Electric Articulated Buses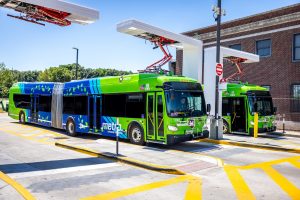 Exclusively serve the #70 Grand MetroBus route
Range of 50-80 miles on a single charge
Have 330 kWh of battery storage (enough to power ten 2,000 square-foot homes for a day)
In-service charging at North Broadway Transit Center
Charges overnight at Brentwood MetroBus Facility, powered by Ameren Missouri
The 60-foot electric buses deliver a superior transit experience, featuring a Smart Ride control system for motion reduction and height adjustments, a more efficient and effective HVAC system, and electric traction motors that are nearly silent compared to diesel engines.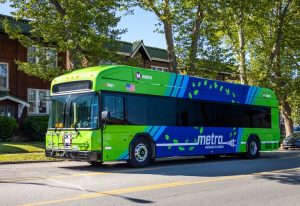 Fast Facts: 40-Foot Battery Electric Buses
Serve a variety of MetroBus routes in Missouri
Range of 150 miles on a single charge
Have 444 kWh of battery storage
Charges overnight at Brentwood MetroBus Facility, powered by Ameren Missouri
The 40-foot buses also deliver a superior transit experience with the latest features and amenities, including a Thermo King Electric HVAC system with integrated thermal management, and superior ride quality with low noise levels and smooth, seamless acceleration.
Known for being the lowest cost transit buses to maintain, GILLIG buses are built on the company's proven low-floor platform design and feature Cummins propulsion systems.
Return to Blog
Categories:
Electric Buses