June 23, 2022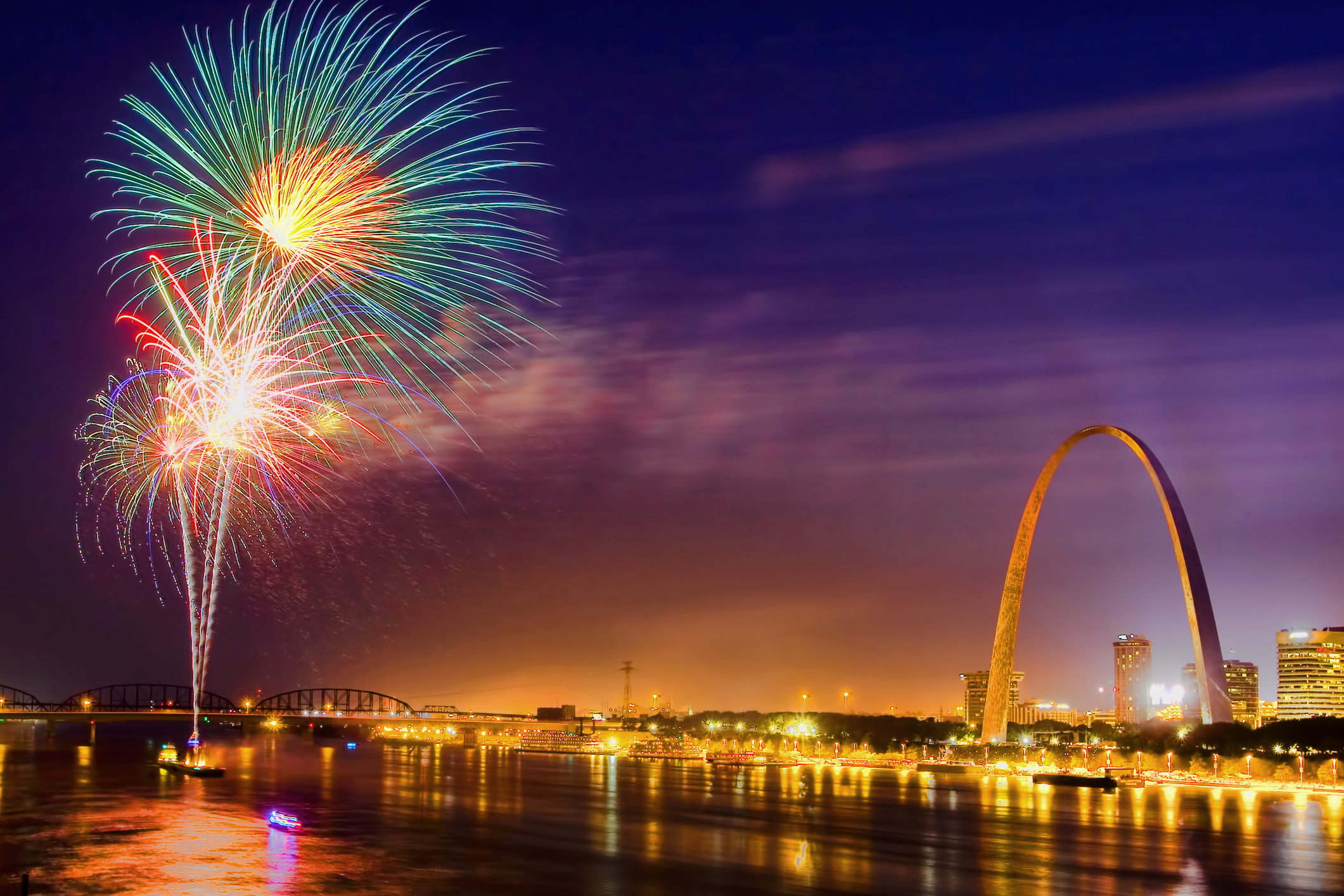 Thousands of people from around the region will head to downtown St. Louis, July 2 through 4, to celebrate America's birthday at Fair Saint Louis. Metro Transit makes it easy to enjoy all of the fun and festivities, while avoiding street closures, traffic, parking hassles and high gas prices.
Transit App: Plan Your Trip & Purchase Your Fare
You can use the Transit app to easily plan your trip to Fair Saint Louis and avoid lines at the ticket vending machines. Purchase a $5 Metro Day Pass mobile fare to enjoy unlimited rides on MetroLink and MetroBus for an entire day.
For additional assistance, contact Metro Transit Information at 314.231.2345 (phone) or 314.207.9786 (text), available Monday through Friday from 7 a.m. to 6 p.m.
MetroLink
With six stations serving downtown St. Louis, MetroLink is the perfect option to safely and conveniently enjoy Fair Saint Louis festivities. MetroLink will operate on a weekend schedule throughout the holiday weekend, with trains arriving and departing downtown St. Louis every 10 minutes. The last MetroLink trains leave downtown around midnight, so check the weekend schedule in advance for departure times.
America's Birthday Parade | July 2
The celebration starts with the America's Birthday Parade on Saturday, July 2, at 10 a.m. The parade will run west on Market Street in downtown St. Louis.
MetroLink Stations: Union Station, Civic Center, Stadium (all located a block or two south of the parade route)
Fair Saint Louis | July 2: Day 1
All the festivities after the parade are at Ballpark Village on Saturday, July 2. The second day of the Gateway Legends Invitational kicks off at 11 a.m. Live music gets underway at 2 p.m. and runs through 11 p.m.
MetroLink Station: Stadium Station
Fair Saint Louis | July 3 & 4: Day 2 & 3
Fair Saint Louis features food, fun, concerts, games and activities at two locations in downtown St. Louis: Kiener Plaza and Ballpark Village.
MetroLink Stations: 8th & Pine (for Kiener Plaza), Stadium (for Ballpark Village)
Fourth of July Fireworks Spectacular | July 4
Fair Saint Louis concludes on July 4 with the Fourth of July Fireworks Spectacular along the riverfront at the grounds of the Gateway Arch, being billed as the largest fireworks show in the fair's history.
MetroLink Stations: Laclede's Landing (next to Gateway Arch National Park), 8th & Pine (west of Arch)
MetroBus
MetroBus is another great option to enjoy Fair Saint Louis festivities. Ride any one of more than a dozen MetroBus routes to the Civic Center Transit Center, which is located just two blocks south of the parade route. You can also transfer to MetroLink at Civic Center, for easy access to the Stadium and 8th & Pine Stations, both near Fair Saint Louis venues. MetroBus will operate on a Saturday schedule on July 2, and a Sunday schedule on July 3 and 4.
MetroBus Routes Serving Civic Center: #4 Natural Bridge, #10 Gravois-Lindell, #11 Chippewa, #19 St. Louis Ave., #30 Arsenal, #31 Chouteau, #32 Dr. ML King, #40 North Broadway, #41 Lee, #73 Carondelet, #74 Florissant, #94 Page, #97 Delmar
Parking
More than 10,000 free parking spaces are available at 20 Park-Ride lots at MetroLink stations in Missouri and Illinois. View a full list of available Park-Ride locations and addresses. Large numbers of free parking spaces can be found at:
Brentwood I-64 Transit Center (900+ spaces)
North Hanley Transit Center (1,700+ spaces)
Shrewsbury-Lansdowne I-44 Transit Center (800 spaces)
Emerson Park Transit Center (800+ spaces)
Fairview Heights Transit Center (800+ spaces)
Safety
Due to the popularity of Fair Saint Louis, riders should expect trains to be crowded, particularly after the fireworks show on July 4. Metro will have extra security, law enforcement officers, personnel and volunteer employee ambassadors throughout the MetroLink system during the holiday weekend to assist passengers.
Public Safety is available 24/7 to address any concerns. 314.289.6873 (call) or 314.300.0188 (text).
Coolers, food and drinks cannot be taken into Fair Saint Louis venues with the exception of one unopened water bottle per person. No eating, drinking, smoking or vaping is permitted on Metro vehicles or property. Alcohol and firearms are also prohibited on Metro Transit vehicles and property. Masks are not required to ride Metro Transit, but all riders are welcome to wear masks if they choose.
Return to Blog
Categories:
Metro Lifestyle