October 20, 2021
Our team member spotlight this week is special – we're not just highlighting one team member but two Operators from Metro Call‑A‑Ride that go above and beyond every day.
James and Jerome (an honoree last year as well) are this year's Metro Call‑A‑Ride Outstanding Operators of the Year!
Metro Call‑A‑Ride regularly recognizes the contributions and customer service of their team, and each year, it recognizes the very best of their operators with the Outstanding Operator of the Year award. To qualify, operators must have excellent on-time performance, no complaints or disciplinary actions, five or more compliments from their customers, and no chargeable accidents.
"Leading this team has been nothing short of a privilege, here at Metro Call‑A‑Ride, everyone is committed to serving our customers with care and respect," said Jeff Butler, General Manager of Paratransit Operations. "Our Operators of the Year represent the very best of our incredible team. Day in and day out, Jerome and James have set the standard for excellence in the safe, convenient and personal service they provide to our riders and our community. I am extremely proud to be able to recognize both of them for their contributions."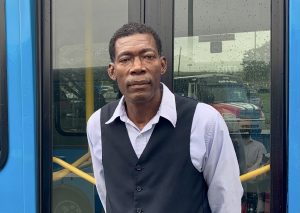 When asked about the secret to his success, Jerome said, "Treat everyone like they are your mom and dad. That's what I tell all of the new operators that I help train."
To learn more about Jerome, click here to see the Q&A from last year. As a back-to-back Outstanding Operator of the Year he says, "This is both a humbling and rewarding experience for me, each day".
Check out James' Q&A below to get to know a little more about our other Metro Call‑A‑Ride Operator of the Year.
---
How long have you been working here?
I've been here 17 years.
What do you enjoy about being a Call‑A‑Ride Operator?
Helping people, it makes me feel so good when we get these accommodation letters when people call in to say, "This driver went above and beyond." It's so rewarding!
What was your first job out of high school?
Steak 'n Shake, I was just turning 16 and I have worked ever since then. I worked the fountain and window so I made shakes and all the sweet things.
What do you like to do for fun?
I like gardening and taking care of the yard, that's a big job. Spending time with our three dogs, they're all rescues.
Do you have anything on your bucket list?
Once I retire, I would like to travel. I'd like to see the East and West Coast and Canada.
---
Our team members work hard to keep our region moving every single day. From operators to customer service, maintenance to mechanics, and operations to public safety, we bring the best of the best together to bring progress, collaboration and innovation to our communities. 
We're excited to add more people like Jerome and James to our Metro Transit team. If you enjoy serving the community and helping people comes naturally to you, click here to apply for one of our open positions.
Return to Blog