July 28, 2022
Damage to Metro Transit System from Record Rainfall & Flash Flooding Estimated at Between $18-20 Million
Return to Blog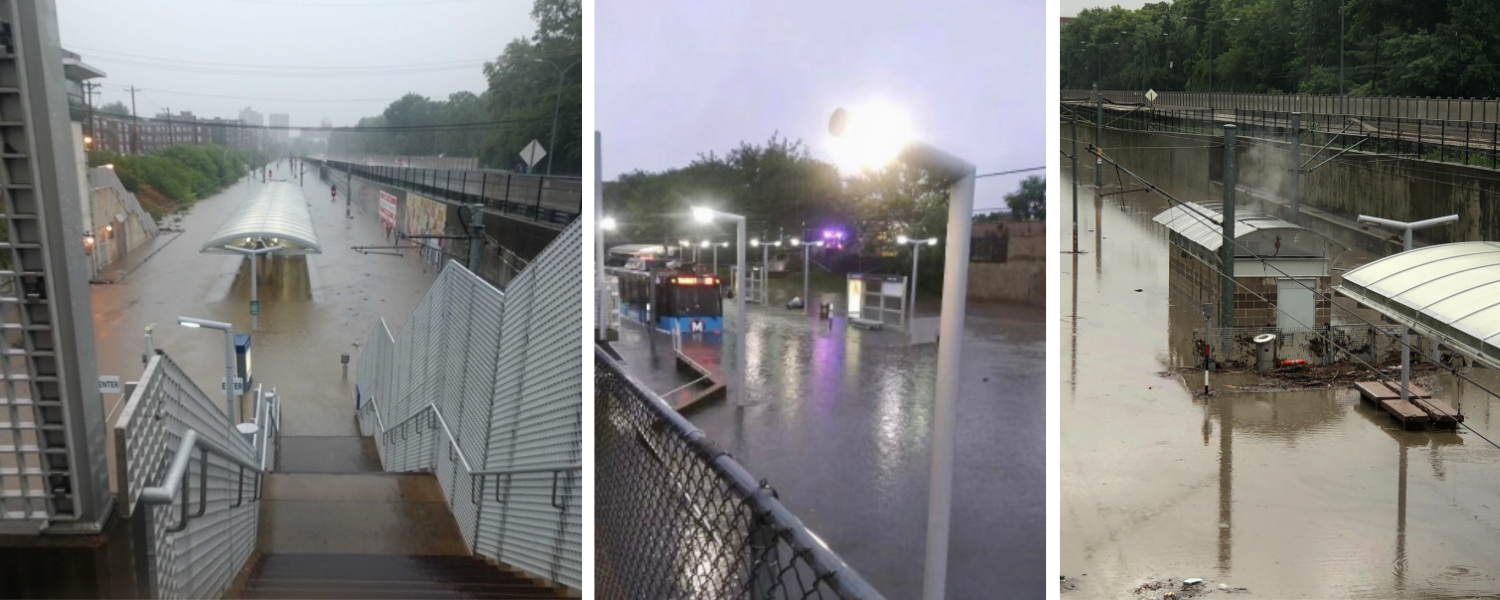 Metro Transit teams and contractors are working around the clock to continue to assess damage, and to make repairs to restore train service to the MetroLink light rail system west of the Central West End Station following the record rainfall and flash flooding event on July 26. Preliminary damage estimates range between $18 and $20 million. Metro Transit is requesting emergency federal and state funding to help cover the losses caused by the unprecedented weather event. MetroLink equipment between the Forest Park-DeBaliviere and Delmar Loop Stations sustained the most significant flood damage with one MetroLink train valued at $10 million expected to be a total loss, as well as station elevators, MetroLink communications and fiber optics, the MetroLink signal system, and damage to the light rail track beds. A Metro Call‑A‑Ride vehicle trapped in the flash flooding July 26 is also expected to be declared a total loss.
Fortunately, there were no injuries to any transit customers, operators, contractors or transit team members during the flash flooding. Deer Creek, which is next to the Brentwood MetroBus Facility, flooded and water surrounded the building, preventing MetroBus from deploying transit vehicles from that facility on Tuesday. Vehicles from other MetroBus facilities were used for service on Tuesday. When the floodwaters receded Tuesday, MetroBus vehicles were relocated to the DeBaliviere MetroBus facility where they are now being used for daily service deployment. The electric bus fleet was removed from service to protect those transit assets and the battery electric vehicles were later moved to the Central MetroBus facility Tuesday afternoon after the floodwaters receded outside the Brentwood MetroBus facility. Flash flooding at several MetroLink stations and water on the tracks hampered or prevented trains temporarily from operating at different sections of the MetroLink alignment in both Missouri and Illinois on July 26.
"We have never seen flash flooding to these extreme levels on the 46-mile MetroLink system since it opened in 1993," said Taulby Roach, Bi-State Development President and CEO. Bi-State Development operates the Metro Transit public transportation system in Missouri in the City of St. Louis and St. Louis County and in St. Clair County in Illinois.
"What occurred on July 26 was beyond our control and we ask for our riders to be patient in the days and weeks to come as we work through these unprecedented challenges to fully restore MetroLink service," Roach said. "In the meantime, we are transporting our MetroLink riders by bus shuttles between stations where the trains are unable to operate. We recognize it is not as convenient for our customers and their commutes are taking longer than normal because traveling by bus is not as fast or efficient as taking MetroLink. Many of these operators are working long days and overtime so please thank them when you see them. Our team has made tremendous efforts during the past 48 hours to restore partial service and will continue these extraordinary efforts. Some of our employees are flood victims themselves and have damage to their homes and personal vehicles but are on the job to help keep the region moving."
For the latest updates to transit service, visit our service updates page.
Return to Blog