June 8, 2023
Dao Tien Bistro- Destination Deals "Merchant of the Month"
Return to Blog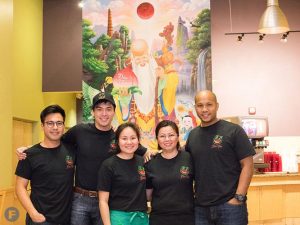 Are you looking for a mouth-watering Vietnamese dining experience in downtown St. Louis that won't break the bank? Look no further than Dao Tien, one of Metro's Destination Deals, and this month's "Merchant of the Month!"
The restaurant is family owned and named after the dynamic Mom-Daughter duo which means "sweet peach." It is conveniently located along route #40 Broadway MetroBus and near the 8th & Pine MetroLink Station, making it an easily accessible destination for those on the go.
With your choice of lunch or dinner, Dao Tien's menu is full of authentic Vietnamese dishes that will satisfy any craving. From flavorful pho to mouth-watering banh mi sandwiches, every dish is prepared with fresh and high-quality ingredients. They take pride in preparing their special sauces and ingredients exclusively in-house. This family has created a warm and welcoming atmosphere where they cultivate great traditions and serve hearty meals.
For Dao Tien, nothing seems more important than their commitment to family and providing meals to those in their community. During the pandemic, Tien paused her nursing career to ensure that the family restaurant stayed in business. She has been serving at their 820 Olive Street location since 2020 and is helping to spearhead the reopening of their second location.
Their dedication, excellent service, and tasty food are all perfect reasons to add Dao Tien as a stop on your commute. Whether you prefer sweet, savory, or spicy, you are promised to leave satisfied.
And the best part? If you're a Metro pass holder, you can enjoy a 10% discount off your meal just by presenting your valid pass. So why not take a break from your daily routine and explore the authentic flavors of Vietnam? Head on over to Dao Tien and experience the warmth and hospitality of this delightful family-owned restaurant. They can't wait to serve you!
During the month of June, we have a special giveaway from our Merchant of the Month. Enter for your chance to win!
Don't forget to plan your trip with ease by using our online Trip Planner or download the Transit App today.
Return to Blog