August 30, 2023
Let Metro Transit Be Your Ride to Labor Day Festivities
Return to Blog
Metro Transit is a great option for getting around this Labor Day weekend. Enjoy all the fun while avoiding road construction, parking, and holiday traffic. Keep reading for directions to get you to these local events, and plan your trip using the Transit app or by contacting Metro Transit Information, available 7a.m. to 6 p.m., Monday through Friday, at 314.231.2345 (phone) or 314.207.9786 (text).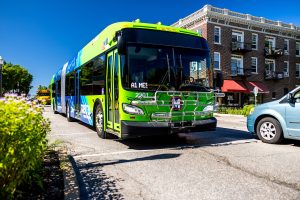 Big Muddy Blues Festival – September 3
The festival will bring music fans down to the riverfront at Laclede's Landing on Sunday, September 3 from 2 p.m. to 8 p.m. to listen to the sounds of local and nationally known artists.
To get to the Big Muddy Blues Festival, ride MetroLink to Laclede's Landing Station and use the west entrance on Second Street to reach the festival area.
If you plan on enjoying the festivities into the night, be sure to check schedules in advance for the last departing trains from downtown.
St. Louis Greek Festival – September 2-4
The 106th annual St. Louis Greek Festival kicks off this weekend at St. Nicholas Greek Orthodox Church in the Central West End. Guests can enjoy authentic Greek cuisine, listen to live music, experience Greek folk dancing, and more.
A quick ride on MetroLink to the Central West End MetroLink Station and a short walk north gets you to the festival, which takes place at 4967 Forest Park Ave. You can also ride the #10 Gravois-Lindell or the #95 Kingshighway bus routes, which both serve stops near the festival. Keep in mind, those two MetroBus routes will be rerouted starting from the beginning of service Friday until the end of service Monday.
Japanese Festival – September 2-4
Celebrating the history, culture, and people of Japan, the Japanese Festival at the Missouri Botanical Garden is one of the largest and oldest festivals of its kind in the United States. The festival runs September 2 through September 4, starting at 10 a.m. each day. Take the #14 Botanical Garden, #80 Park-Shaw or #8 Bates-Morganford, which all have stops near the Missouri Botanical Garden..
Belleville Labor Day Parade & Picnic – September 4
The Belleville Labor Day Parade and Picnic is a tradition perfect for spending your off day with family and friends. The parade starts at 10 a.m. and travels along West Monroe to IL-159, then along West 'C' Street to Hough Park, where the picnic will take place following the parade. Catch a ride on the #1 Main St.-State St. MetroBus route and exit at the stop right next to Hough Park to enjoy all of the fun.
Return to Blog