August 31, 2023
The Secure Platform Plan implementation is on track and moving steadily forward. This important MetroLink project will help create a more secure transit environment and better transit experience for you, our customers. When MetroLink opened in 1993, it was designed as an open access light rail system. You didn't have to go through a fare gate or turnstile like you do in New York City and other cities to get to the station platform to board a train.
The Secure Platform Plan will convert all 38 current MetroLink stations from open access to closed access. The installation of security gates and new fencing will create secure customer entrances at all station platforms. That means if you don't have valid fare to open the security gate, you won't be allowed on the MetroLink platforms. The access to the platforms will be limited to paying customers only.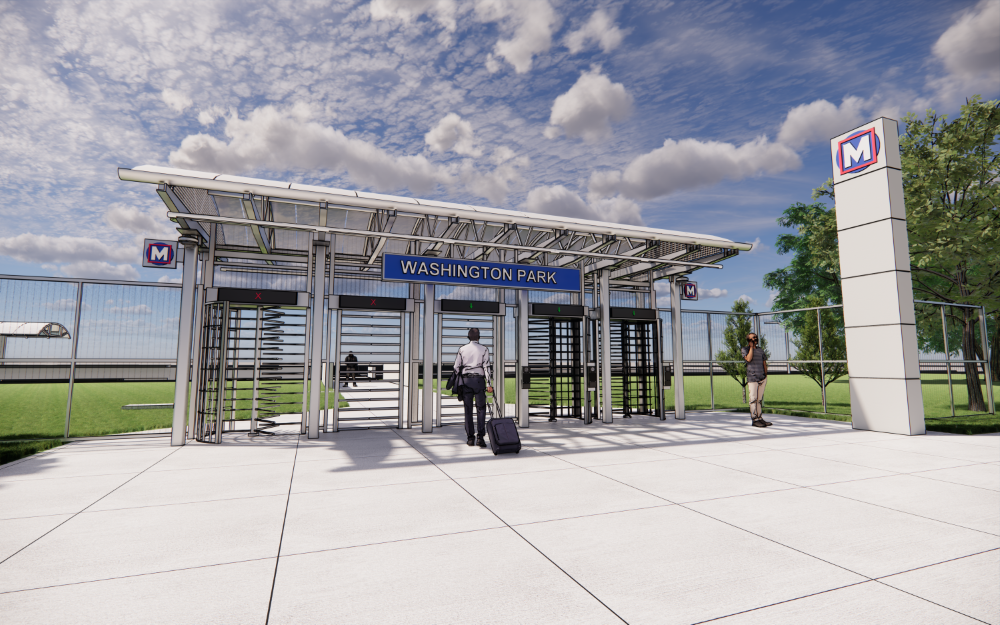 To bring the Secure Platform Plan online as quickly as possible, the project has been divided into groups. New gates and fencing will be installed at four to eight MetroLink stations at a time. The first four stations are in St. Clair County in Illinois:
Emerson Park MetroLink Station
Jackie Joyner Kersee Center MetroLink Station
Washington Park MetroLink Station
College MetroLink Station
You will see the security gates and fencing go up next spring at these first four stations. Design work is well underway on the next group of stations: Forest Park-DeBaliviere, Central West End, Cortex, Grand, Union Station, Civic Center and Delmar Loop. Security gates and fencing installation will be completed next year for these seven stations and a third group of stations. The stations will constantly be moved toward completion through simultaneous design, soliciting bids for construction and installation among the six total groups of stations. The gates and fencing installation at all of the MetroLink stations is slated to be completed in 2025.
Another key element of the Secure Platform Plan is the new Real Time Camera Center, which will allow security teams to monitor 1,800 digital cameras positioned on the transit system. Currently, 1,000 cameras have been installed and are being monitored in the Real Time Camera Center. Eventually, security will be able to see live cameras aboard Metro Transit vehicles.
Every 10 years or so, Metro Transit updates the fare collection system, and that process is underway now. Current Ticket Vending Machines will be replaced with new state of the art equipment in the coming years. The new security gates will work in conjunction with the new fare system.
If you would like more information about the Secure Platform Plan, click here.
Return to Blog
Categories:
Safety